Swansea 'honoured' to be Sir Alex Ferguson's last home opponents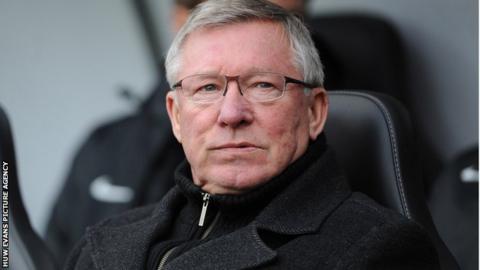 Swansea City coach Alan Curtis says Sunday's game at Manchester United in Sir Alex Ferguson's last home game in charge will be a "momentous occasion."
Ferguson will step down as United manager at the end of the season after 26 years in charge.
Curtis described Ferguson as one of the icons of the game and said Swansea were honoured to be the opponents in his final home game.
"It will be one of those 'I was there' sort of moments," Curtis said.
"It will be an honour for the club to participate in Sir Alex's last game for Manchester United at Old Trafford.
"It's a game they [Swansea players] always look forward to anyway to go to Old Trafford.
"We knew that the Premiership [trophy] was going to be presented to them but it gives it added spice now.
"It's something that we're really looking forward to. It really is going to be a momentous occasion to say the least.
"Probably the game, in many ways, will be a sideshow but it's important we go there and perform because it will be a massive audience.
"We'll have to be competitive on the day."
Ferguson, has won 38 trophies during his reign at Old Trafford and will now become a director and ambassador for the club.
The Scot's haul includes 13 league titles, two Champions League crowns, five FA Cups and four League Cups.
Swansea visit Old Trafford on the day United will also be presented with the Premier League trophy, a fitting finale says Curtis.
"It's really appropriate he goes out with his United team, as they have been for so many years, at the top," Curtis said.
"He's been such an icon in the world of football.
"He has to go down as probably the greatest of all the British managers, probably in Europe and possibly the world.
"The day was going to come but it's probably caught everybody a little bit unexpected and yet in many ways it's no surprise.
"This retirement has probably caught everybody unawares a little bit.
"It didn't seem so long ago that he was talking about United pushing on for maybe the next decade or so.
"He said he probably wasn't going to be there but he certainly suggested he was probably going to stay a little bit longer."