Stephane Mbia fined by QPR after Marseille tweets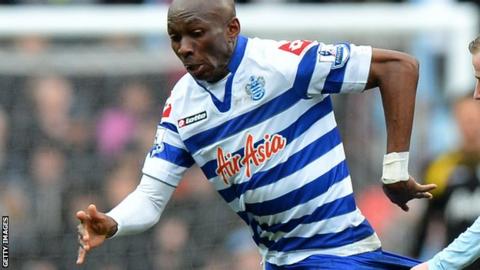 Midfielder Stephane Mbia has been fined by QPR after a message on his Twitter account suggested he wanted to return to his former club Marseille.
The 26-year-old moved to Loftus Road last summer, with Joey Barton making a loan move to Marseille in return.
Following QPR's relegation there was a message sent to Barton from Mbia's Twitter account asking him if he was interested in returning to Loftus Road.
It read: "@Joey7Barton: Do you want to rechange (sic) your seat with me?"
Barton replied via Twitter saying: "How do I answer this politically? Er... nope. If you go down with a team, you should stay and help them up mate. They need you all to stick together and help them back."
The Cameroon international on Tuesday denied using Twitter to try to engineer a move from the London club saying: "Someone must have got hold of my login and password - I did not write these things."
However, QPR acknowledged the message and have now fined the midfielder.
QPR spokesman Ian Taylor wrote on Twitter: "The club has concluded its investigation following a series of tweets which appeared on Stephane Mbia's official Twitter account.
"Stephane has stressed to the club that he is not responsible for the tweets.
"However, the club is of the view that every player that has a Twitter account is ultimately responsible for what appears on it.
"As a result, Stephane has been fined and warned in relation to his future conduct. The club will be making no further comment."
QPR were relegated to the Championship after drawing 0-0 with Reading last week.