Sir Alex Ferguson: When will we see your like again?
By Clive Lindsay
BBC Scotland Sport
Last updated on .From the section Football9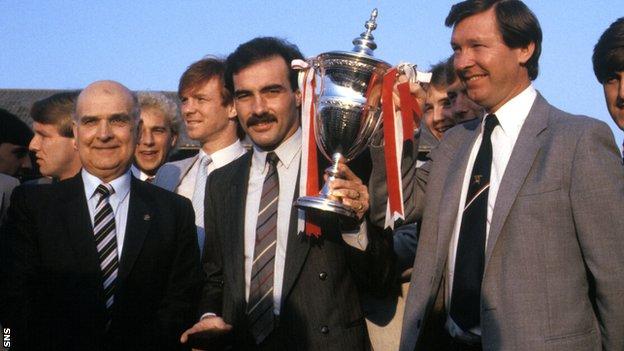 Scottish football has lost its greatest flag bearer on football's world stage - and when will we see your like again?
It is not only the Manchester United manager's chair where a massive gap is left by .
And it is perhaps fitting, possibly by his own design, that his departure from the hot seat he has graced so successfully for 26 years came three days before the 30th anniversary of Aberdeen's European Cup-winners' Cup final victory over Real Madrid.
It is a reminder that the roots of those 13 Premier League titles, two Champions Leagues, two domestic league and FA Cup doubles lie in his Scottish homeland.
Scottish FA vice-president Alan McRae recalls sitting in a car outside Old Trafford with Ferguson as he described United as "a great club, but I'll make them greater".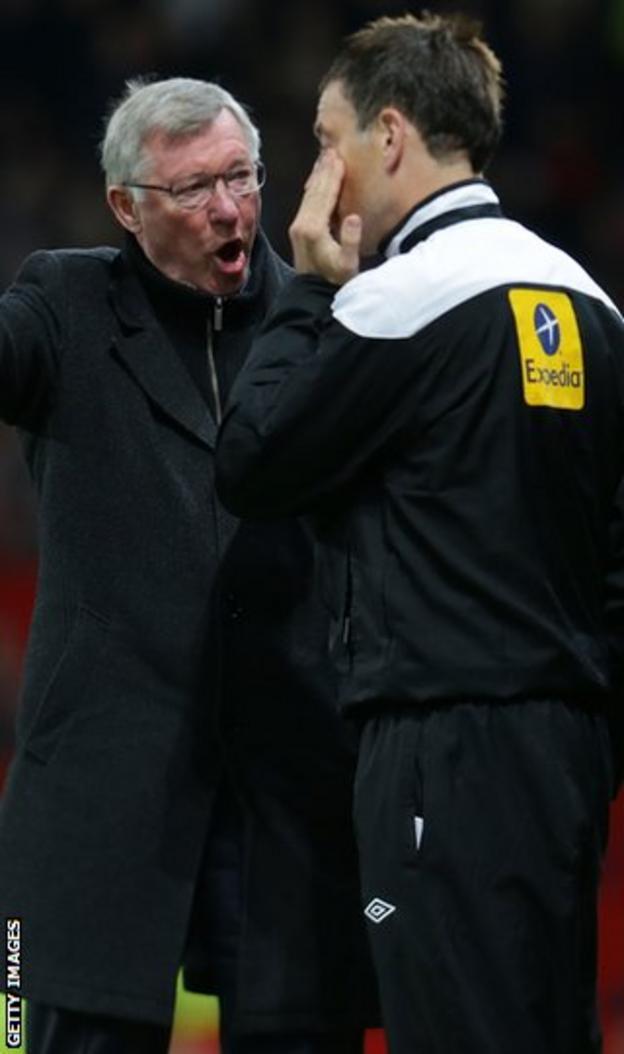 Not only did Ferguson live up to his own boast but it was the third time he had achieved such a feat with a new club.
After only eight months with minnows East Stirlingshire, the former Queen's Park, St Johnstone, Dunfermline Athletic, Rangers, Falkirk and Ayr United striker moved on to greater things with a St Mirren side languishing in the lower reaches of the Scottish league.
Scotland Under-21 manager Billy Stark was one of his first signings and helped Ferguson to his first trophy as manager - the Scottish First Division title in 1977.
"The job he did there was miraculous," said Stark, who was to follow the manager to greater glory with the Dons.
"He was young and vibrant and energetic in those days and he literally took the town by the scruff of the neck and he dragged them into the Premier League."
Ferguson's next stop was Pittodrie, where he created a side that, along with Jim McLean's Dundee United, for a time ended the dominance of Celtic and Rangers.
Sir Alex won three Scottish Premier Division titles, four Scottish Cups, a League Cup and then, in addition to the European Cup-winners' Cup, went on to win the European Super Cup.
Dundee United, Celtic and Rangers are the only Scottish sides to have since managed to reach a European final, and each time they lost, while the national side's world ranking has suffered an alarming slump.
"For us, as Scots, it's given us something," said former midfielder Stark. "In a football sense, we have been a bit in the doldrums in many ways, but the managers we have produced we can look on with pride and there's no-one bigger in the world stage than Sir Alex Ferguson. I think we should all be grateful he's a Scot."
Indeed, Ferguson has become a mentor for many blossoming bosses, a host of them his own former players, while others, like Celtic manager Neil Lennon, have also admitted to benefitting from his advice.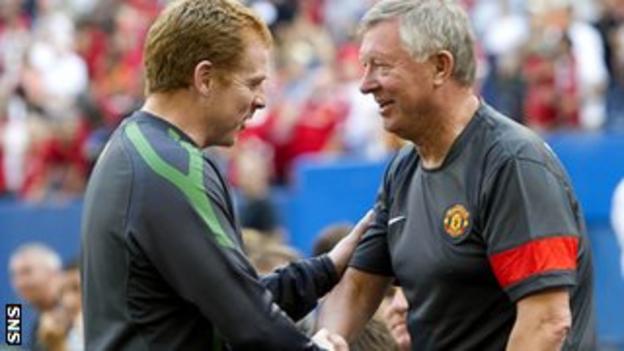 There had been successful Scottish managers in English football before, like Bill Shankly and United's own Sir Matt Busby, but Ferguson's success has helped unleash a steady stream of his countrymen into the top jobs throughout the professional game south of the Border - some of it through his own recommendation.
It is part of his legacy that .
Whoever is given the United job goes into it knowing that, with few clubs these days willing to afford the kind of loyalty shown to Ferguson, it is unlikely that anyone will ever surpass Ferguson's record of achievement.
Willie Miller, who played under Ferguson at Aberdeen before managing the club himself, said: "He's been at it for 30-odd years now and there's not many managers that can stand that test of time and still be successful.
"And, of course, he is still successful. He's going out on a high having just won the Premiership down south.
"It is not success with one team. It is with a number of teams.
"Even at Aberdeen, he changed teams. He brought in new players and different players.
"And, at Manchester United, he's had four, perhaps five, different Manchester United teams that he's developed.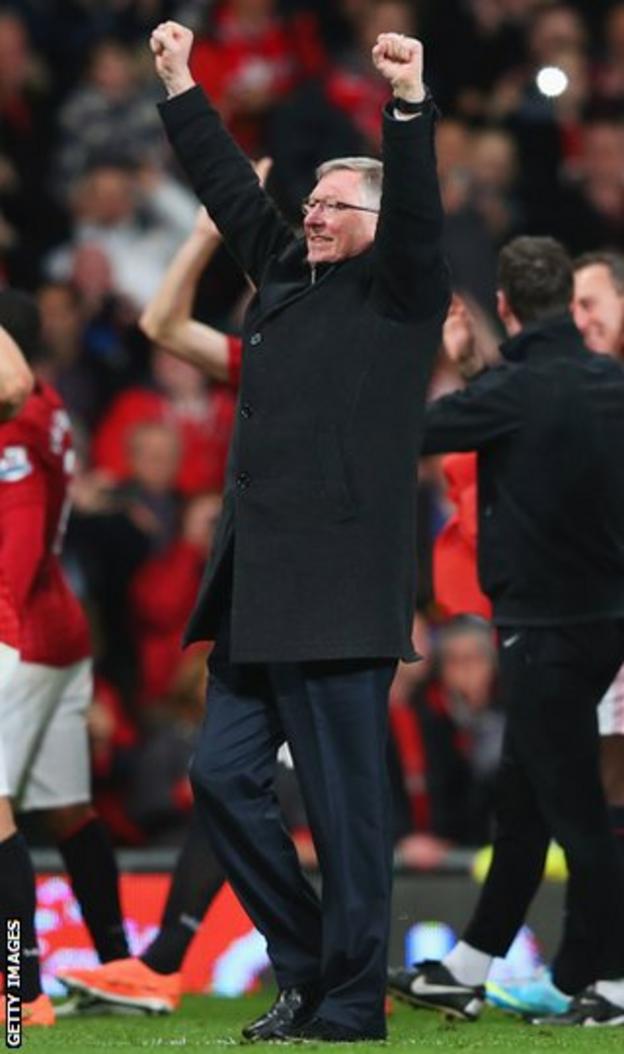 "It is the fact he has changed teams, the fact he's given youth an opportunity and, within doing all that, everything a manager wants to do at any club, he has retained a high success rate.
"That's what makes him quite unique."
Ferguson is perhaps best known for a tempestuous public persona typified by the famous "hairdryer treatment" he at times meted out to players, members of the media and anyone else who dared cross his path.
However, while autocratic and uncompromising, under the surface, the style of management of the at-times compassionate workaholic from a Govan shipyard background was far more sophisticated and complex.
Sports psychologist Tom Lucas said: "One thing that will come out eventually is his approach to sports science.
"He knew that, in order to be at the top, he had to embrace what sports science in its totality would offer and that includes physiology, biomechanics, dietician, sports psychology.
"He gave a persona of old school, but he was very far from old school. He was very much modern."
, recalls: "He did say once say 'see that boy over there, I taught him everything he knows, but I didn't teach him everything I know', so there's obviously a few tricks up his sleeves that he is not going to divulge."
His successor at Old Trafford - and others who seek his fatherly advice - will hope that those secrets are passed on once Ferguson moves to his club ambassador role at the age of 71.
In Scotland, many a budding manager will continue to be inspired by his success and his legacy should remind smaller clubs that breaking the dominance of the Old Firm is not a forlorn dream.