Barry Horne backs David Moyes' Manchester United credentials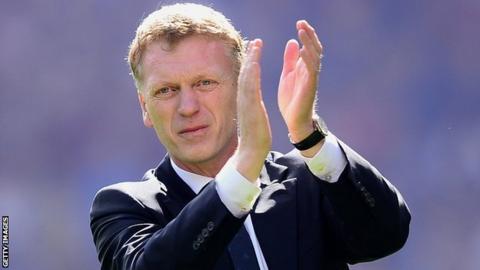 Former Wales captain Barry Horne says that Everton boss David Moyes could be an inspired choice to take over from Sir Alex Ferguson at Manchester United.
Moyes is with an announcement possible as early as Thursday.
And former Everton midfielder Horne says that if Moyes leaves Goodison Park for Old Trafford it will be deserved.
"I am an Evertonian, I think he's been absolutely amazing for Everton," Horne told BBC Wales Sport.
"But, having said that, you can't hold people back and you can't tie people down.
"I personally wish him all the very, very best and thanks for what he's down for our club if he does go, because he's restored pride to Everton, there's no doubt about that.
"There's a couple of things which might not be high on the check list in most people's minds, but I suspect might be in Sir Alex Ferguson's mind and the hierarchy at Man Utd.
"He's loyal, he's reliable, he's good at PR without being too high profile and I think there's an affinity there with Sir Alex."
One of the doubts expressed over Moyes' suitability is his lack of trophies with Everton since he took charge at Goodison Park in 2002.
But Horne says that the Scot's achievements on a comparatively modest budget should be taken into account when considering him as the replacement for Ferguson, who will become a director and ambassador for United.
"I'm still a bit shocked that it has happened so quickly if it is David Moyes... but sometimes you have to take a chance on a manager and to keep Everton in the top six or eight for 10 years is a managerial achievement," Horne added.
"He's won three Manager of the Year awards, which is the same as Sir Alex Ferguson - they're the only two to have done it - and he's come close to winning trophies.
"The brand of football that Everton play is not appreciated, they can play some really attractive football, so there's lots of bits of stuff there - the only thing that is missing is the trophies."