Bristol Rovers: Ellis Harrison among eight offered new deals
Last updated on .From the section Football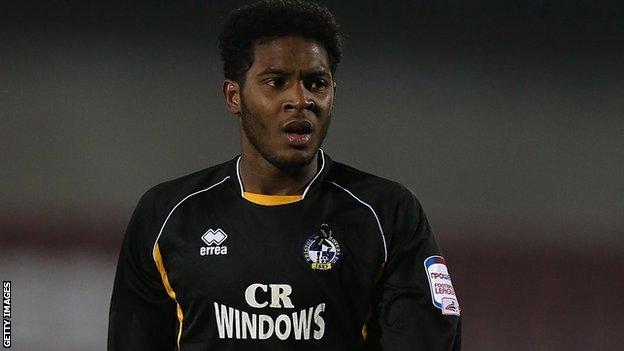 Eight first-team players have been offered new deals at Bristol Rovers.
Forward Ellis Harrison and midfielders Fabian Broghammer and Oliver Norburn are among those considering contracts.
Injured duo Seanan Clucas and Danny Woodards have also received offers from the Pirates, along with Ollie Clarke, Mitch Harding and Jordan Goddard.
Defender Adam Virgo and goalkeeper Scott Bevan have not been given new contracts but will remain with the club as they recover from injury.
Virgo, 30, missed the majority of the season with a knee problem while Bevan, 33, has not played since the 2011-12 season because of a wrist problem.
"Neither of them have played a game since I've been here so we're not in a position to renew them," manager John Ward told BBC Radio Bristol. "But we have a duty of care to make sure the guys are given the best opportunity to move on."
Rovers drafted in Millwall goalkeeper Steve Mildenhall on loan as cover for the second half of the season and Ward remains positive about a possible return for the 34-year-old.
"Steve is still contracted to Millwall and their manager left this week so whether that has any bearing on the situation, I don't know," said Ward.
"We have made a move and we'd like to keep him. He's aware of that and I'm hopeful that we can resolve something in our favour."
Colchester midfielder John-Joe O'Toole also had a successful loan spell at the Memorial Stadium last season but Ward is less confident about securing his services.
"John-Joe is contracted for another 12 months at Colchester. He's not a player I can just say 'come and sign for us'," added the Rovers boss.
"We've had chats with Joe Dunne [Colchester boss] but John-Joe has caught the eye by putting in some excellent displays for us. I'm not the only one trying to lure him out of Colchester."
It had already been confirmed that Joe Anyinsah has been released, while Matt Harrold, Michael Smith, Jim Paterson and Mark McChrsytal have signed new deals.