Guernsey FC secretary rules out importing players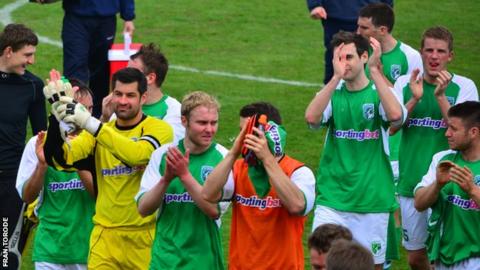 Guernsey FC secretary Mark Le Tissier says the club will keep their policy of only picking island-based players.
The Green Lions' were but the despite the step up, Le Tissier says the policy will stay.
"The club's stance hasn't changed since day one, we set the club up for players that are living and working in Guernsey," Le Tissier said.
"That won't change for the foreseeable future," he told BBC Guernsey.
"If someone from the UK wants to come to Guernsey to live and work, and is good enough and wants to take part with Guernsey FC, then that's fine, we'll welcome them with open arms.
"But the club was set up for the benefit of local footballers and that's what we intend to do."
The club has to pay the travel expenses of sides coming to the island, as well as paying for their own flights to England for games.
Le Tissier says Guernsey FC is hoping to attract more sponsors now they are playing at a higher level.
"We hope more sponsors will come on board and assist us financially, it costs us a lot of money to take part and we need all the help we can get.
"Hopefully the fans will continue to support us and come down to Footes Lane in the numbers like they have for the past two years and hopefully we can attract more new people to come and support us.
"We're going to be arranging meetings with all our partners, we've had meetings with travel agents already, so the work really starts now, this is going to be our busiest time of the year," he added.
Guernsey FC was only set up two years ago and have won promotion in both their seasons so far, coming second in the Combined Counties Premier Division this season.
And Le Tissier says there is no reason why his side, who made the semi-finals of the FA Vase, cannot challenge for honours again next season.
"We want to push on, we want to be successful in the league and if we are successful and we gain enough points to get promoted that would be absolutely fantastic.
"But we know how difficult that's going to be, let's see whether the players can step up again as they've done over a number of years now."