Tranmere's Ian Goodison signs new one-year contract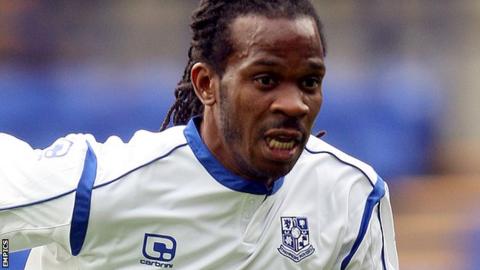 Ian Goodison has signed a new one-year contract with Tranmere, making him the oldest outfield player confirmed to be in the Football League next season.
In November, ex-Jamaica defender Goodison
He has played 390 games in nine seasons at the club, including 12 in 2012-13.
"I love Tranmere and am very happy to stay. From the day I came, all the fans and staff have made me very welcome," Goodison told the club website.
Manager Ronnie Moore added: "I'm really pleased Ian will be here for another year. He has been a fantastic footballer for this club over the past nine years.
"People might be surprised that I've offered him a contract at the age of 40 but Ian doesn't play like a 40-year-old.
"He is not like any other player I've ever worked with - he's a one off and his team-mates love him. He has an incredible amount of experience and has helped our young defenders this season with a lot of advice before and during matches."
Four other players - midfielder Andy Robinson, full-back Zoumana Bakayogo, plus goalkeepers Owain Fon Williams and Jason Mooney - have
Bournemouth's Steve Fletcher retired at the age of 40 earlier this month, while the future of Bury defender Efe Sodje - also 40 - is still undecided.