Frank Lampard: Jose Mourinho back at Chelsea a 'great thing'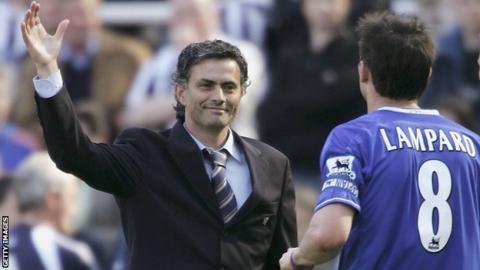 Frank Lampard says it would be a "great thing" if Jose Mourinho returned to manage Chelsea.
The 34-year-old midfielder won two Premier League titles and three other major trophies during Mourinho's three-year spell at Stamford Bridge.
Mourinho, currently at Real Madrid, is favourite to replace Chelsea's interim boss Rafael Benitez.
"I think it would be a great thing for the club, I think he is a fantastic manager," Lampard said.
"I've seen speculation before and a completely different manager walks through the door so we never know on that front but he is certainly one of the greatest managers, if not the greatest, in world football, so I'm sure the club and the fans will be happy to have him.''
Lampard, whose Chelsea contract expires at the end of the season, was asked if he would like to stay if Mourinho got the job. ''Yes I would, but let's see what happens," he replied. "I've always said I want to spend all my career here. I think everyone knows that.''
Interim boss Benitez will leave the club at the end of the season and Mourinho, who is expected to exit Real Madrid at the same time, has been widely tipped to return to the club where he was manager between 2004 and 2007.
Earlier this month the Portuguese fuelled the speculation by saying: "I know in England I am loved. I know I am loved by some clubs, especially one".
On 3 May his agent, Jorge Mendes, told Italy's Radio Mana Mana there was an "80%" chance the Portuguese will return to Chelsea in the summer.
However, on the same day Mourinho said he had not decided to leave Real Madrid at the end of the season.
Meanwhile, Lampard had warm words for retiring Manchester United manager Sir Alex Ferguson.
"We are competitive with Man United, we want to beat them and fans don't like them, but with Sir Alex Ferguson maybe you have to look up and say what a great man and manager he is.
"He has been incredible as a man that has run the club, his desire to get the best out of players, to keep evolving the team - what he has done is a complete one off.
"I think he was, for the period of time he did it, the greatest. A lot of managers, the Jose Mourinhos of this world, are making a play for that and they have to do it as long as Fergie has."