South Africa move up in Fifa rankings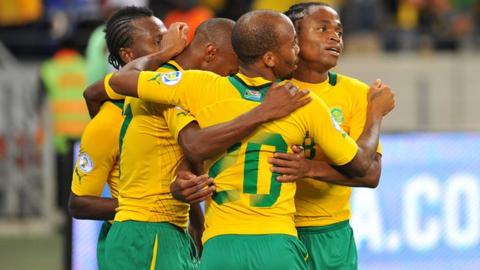 South Africa have moved up six places in the Fifa world rankings to break into the top 10 of African teams.
Bafana Bafana are the ninth best team in their zone and the 56th best team in the world according to world football's governing body.
African champions Nigeria have also crept up the list, reaching 28th place overall, but the improvement does not lift them from fourth place among the teams from their continent.
Equatorial Guinea slip to 10th in Africa, while Cameroon are the side to slip out of the top 10.
Elsewhere, Senegal hit the top 20 in Africa after a climb of 12 places that ranks them as 76th overall - leapfrogging Scotland in the process.
Top 10 in Africa:
1. Ivory Coast (12th in the world)
2. Ghana (22)
3. Mali (26)
4. Nigeria (28)
5. Algeria (35)
6. Tunisia (41)
7. Zambia (46)
8. Burkina Faso (50)
9. South Africa (56)
10. Equatorial Guinea (61)