Dundee Utd & Partick Thistle impasse over Jackie McNamara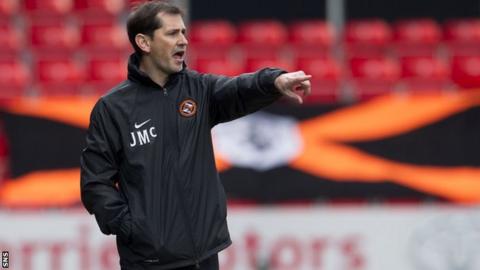 Dundee United have withdrawn their offer of compensation to Partick Thistle concerning Jackie McNamara's move to Tannadice.
United say they had offered to meet Thistle's claim of £80,000 in two instalments but that the Firhill club were seeking a single payment.
The most recent offer was for £50,000, despite United's legal advice that no compensation is due by them to Thistle.
The Jags declined to comment and have referred the matter to lawyers.
Meanwhile, McNamara, who became Tangerines boss in January, insists he is not seeking to profit from Thistle's promotion to the Scottish Premier League.
The First Division champions had said McNamara's lawyers were chasing a bonus payment for the title win.
"I can assure people I don't want anything from Partick Thistle money-wise," McNamara told BBC Scotland.
"Since I left there has been a lot of stuff come from the Partick Thistle side of things. I think the way they've handled it is very disappointing, instead of just wishing me good luck.
"Obviously, as much as I'm disappointed and frustrated at the way they've dealt with it, I'm delighted that the players have managed to get promotion, which I knew they would.
"It became very personal to me, obviously trying to tarnish things and make it out to be about money, but once it's resolved I'll come out and say my side of things.
"I've kept my silence during the course of it, hoping it was resolved. Instead of worrying about what I'm doing or what I'm saying, it's about Thistle winning promotion for the first time in 10 years and getting to a cup final and all the young players playing football.
"Football is about enjoyment, it's not about me going and bettering myself at a bigger club.
"There are a lot of things which I am very angry about, when it comes down to things like money, because that's never the case for me."
Regarding the bonus payment issue, a Partick Thistle spokesperson said: "We received a letter from Jackie McNamara's lawyers and it is now in the hands of our lawyers. We will make no further statement on the matter."