Pawlett blame too strong, says Aberdeen's Derek McInnes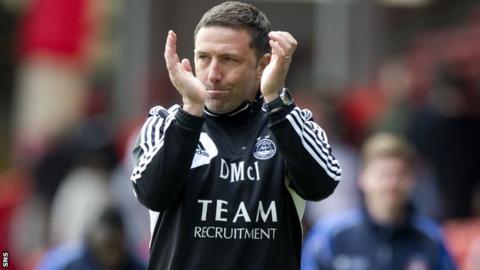 Aberdeen manager Derek McInnes thinks it is "bang out of order" to make Peter Pawlett a scapegoat for Dundee's relegation.
The Dons winger has accepted a two-match ban for simulation that led to a penalty goal in the 1-1 draw that consigned the Dark Blues to the drop.
Dundee have been highly critical of the penalty decision.
But McInnes said: "They've had 36 games to sort themselves out. It's not Peter Pawlett or Aberdeen's fault."
Talking after Sunday's match at Dens Park, manager John Brown was furious that Dundee's fate had been sealed by Niall McGinn's converted spot-kick.
"It's the players' livelihoods - they have to pay their mortgages," he said, describing referee Alan Muir's decision as "diabolical".
"We're down a division and they're out of a job because of an official's bad call."
However, McInnes pointed out that Aberdeen had cause to feel hard done by with decisions from match officials and is not convinced that Pawlett dived.
"As a club, we've accepted the punishment," he said, before adding: "For me, it still isn't clear.
"I'll be looking out to see if there is the same outrage and comment about players from incidents like that in the future.
"To lay the consequences of Dundee's relegation - and people losing their jobs, at Peter Pawlett's door is bang out of order.
"We've been on the wrong end of a lot of decisions this year."
Pawlett has been banned for simulation before - he received a two-match suspension after throwing himself to the ground to win a penalty against Hibernian in December 2011.
He was also booked for diving twice in a month earlier this year, once against Dundee while on loan at St Johnstone, and also against Hibernian for the Dons.