Wayne Rooney: Man Utd striker's career at crossroads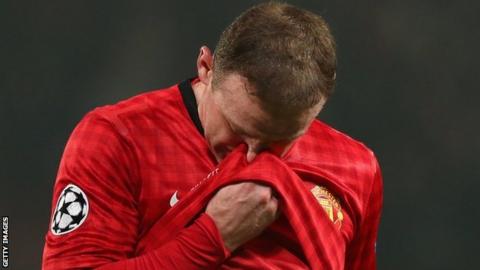 Wayne Rooney was never supposed to grow up into a player who watched on from the substitutes' bench.
This is, after all, the boy wonder who developed into the most naturally gifted English player of his generation, a wrecking-ball of a centre forward who burst onto the scene as a 16-year-old at Everton and captured the attention of the world with some precocious performances at Euro 2004.
But after nine years at Manchester United, Rooney has reached a crossroads in his career following a season in which he has found himself fighting for his place in an increasingly congested forward line.
Left out of the starting line-up in favour of Danny Welbeck and Nani for the second leg of the Champions League clash with Real Madrid; dropped to the bench for the FA Cup quarter-final against Chelsea; switched to the flanks to accommodate Shinji Kagawa - Rooney is no longer the automatic first-choice he once was.
His peripheral role in the defeat by Real, arguably United's biggest game of the season, hurt the most. Rooney accepted the manager's decision in a dignified manner when the news was broken to him at a team meeting two hours before kick-off. But later, the striker would admit his shock and disappointment to his team-mates.
The disgruntlement has rumbled on. In recent days, it has emerged that Rooney walked into Sir Alex Ferguson's office a fortnight ago and asked to leave United for the second time in less than three years.
The response from Ferguson was unequivocal - he would not be allowed a transfer, he would not be sold.
And yet the issue will not go away.
If Rooney really is to stay at United next season, it would either mean agreeing a new contract this summer or being allowed to enter the final two years of the deal he signed in 2010, when he came so close to leaving Old Trafford. Privately, leading figures at United are pragmatic about the situation and are open to the possibility of selling Rooney if the right offer comes their way this summer.
Indeed, the club are understood to have misgivings about offering another long-term contract to a player who will be 28 in October and whose natural build has raised questions about whether he can continue to perform regularly at the highest level into his thirties. Rooney, on the other hand, believes he has yet to peak.
There are questions too, over his best position. He has been deployed in central midfield this season, notably against Aston Villa and Stoke, but the player is not yet ready to give up doing what he has done so naturally all his life and put the ball into the back of the net week after week.
By ordinary standards, Rooney has had a fine season, scoring 22 goals in 42 appearances on the way to a fifth Premier League title. He is not, though, judged by ordinary standards.
The unknown in all this is the role of David Moyes as the current Everton boss prepares to succeed Ferguson at Old Trafford. A reunion with his one-time mentor may yet rescue the situation and reinvigorate Rooney, with the player willing to stay at United if his former manager at Goodison can offer assurances that he remains a key figure for the future.
Moyes handed Rooney his Premier League debut as a 16-year-old and oversaw his development into the most exciting young talent in English football. But they to have also had their problems, with Moyes annoyed and upset by the player's decision to leave Goodison for United in 2004.
The 50-year-old Scot then sued Rooney and the publisher HarperCollins over allegations that Moyes leaked details of a private conversation between the pair to the local press. An out-of-court settlement was reached in 2008 and the hatchet has since been buried - they are friends and Moyes consistently and publicly compliments his former fledgling.
But the situation with Rooney at United is delicate and the concern, on both sides, is that the relationship between player and club has been damaged irreparably.
The 2010 episode damaged Rooney's relationship with the supporters and this latest development will add to the sense his career at United is drawing to a close.
With no particular desire to play abroad, Rooney has in the past said he would like to remain in Manchester for the rest of his career, but with Chelsea already being discussed as a possible destination, he may now be forced to reconsider his options.