Northampton Town hope to keep Aidy Boothroyd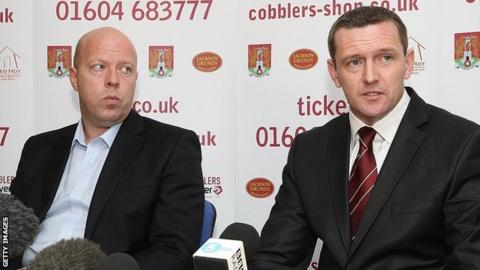 Northampton Town chairman David Cardoza is expecting interest in manager Aidy Boothroyd this summer, but wants him to stay at the club.
Boothroyd, 42, has taken the Cobblers from League Two strugglers to play-off finalists within 18 months.
"I understand how football works," Cardoza told BBC Look East.
"If a big club comes along there will be a conversation to be had. But from everything he tells me he loves it here and I hope he stays for a long time."
Boothroyd, who was appointed on a one-year rolling contract in November 2011, has managed at the top level in England after taking Watford to the Premier League in 2006 and also had spells in charge at Colchester United and Coventry City.
Cardoza is aware his success at Northampton could attract teams in higher leagues, particularly if the Cobblers fail to win next weekend's Wembley final against Bradford.
"I wouldn't be surprised. at the end of the day it will come down to what Aidy wants," he said.
"He's telling me he wants to stay, he loves the club, loves the fans. He sees real potential here and wants to take us as far as we can.
"He wants to get us to the Championship and see where we go from there. To have gone from fourth or fifth bottom to this in a year has been amazing.
"There's so much stuff Aidy brings, in terms of the feel good factor for the staff as well as the footballers. It's been transformed."
The trip to Wembley on 18 May will be Northampton's first since Cardoza took over the club in December 2002 and will signal the completion of another achievement for him.
He said: "I wanted to play Manchester United. I did that [in the FA Cup in 2004].
"I wanted to get promoted. I did that [to League One in 2006]. I've been relegated [in 2009]. I didn't want to do that.
"And I wanted to be part of taking the town to Wembley -I'm really proud about that."