Sheffield United: Seven names on new manager shortlist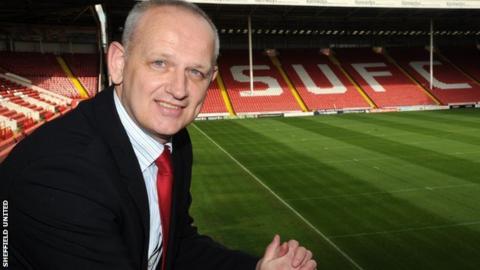 Sheffield United chief executive Julian Winter has revealed caretaker Chris Morgan is among seven people who will be interviewed for the manager's job.
Morgan guided the Blades into the play-offs after the departure of Danny Wilson in April where they lost out to Yeovil 2-1 on aggregate.
Winter returned to the club he left in September 2012 on Wednesday.
"Chris has put himself forward to be interviewed for the role," he told BBC Radio Sheffield.
"We had around 20 applicants of quality for the position and narrowed the shortlist down to about seven.
"We did quite a lot of work in preparing a managerial profile. We want a manager who wants to develop and improve players.
"Chris stepped into the breach at a difficult moment and everyone has been open with him that other candidates will be interviewed.
"The manager is pivotal to the challenges we face. It is about creating an identity on and off the pitch, a philosophy and a new culture. The club has to change because it can't continue with the model it has had."
The Blades are now facing a third consecutive season in the third tier after failing to gain promotion through the play-offs for the second successive campaign.
He admitted that the club are likely to need to trim their budget again.
"I don't see this as a major cost-cutting exercise," he added. "Naturally the playing budget will be smaller but I don't know to what extent yet.
"We have been the biggest budget and the second biggest budget in this division in these last two years and we haven't got promoted.
"The club will be looking to do everything it can to get the model right and that might mean some players leaving or being sold."
Winter is keen for the club to follow the model of Charlton as they look to go up at the third attempt.
The Addicks spent three years in League One, going up as champions in their final season in 2011-12 before finishing ninth in the Championship this season.
"I absolutely expect us to be challenging at the top of the table," he said.
"If you take Charlton as an example. A new manager came in and a lot of players came in and out of the building and lo and behold they got promoted. They were a very different group of people and we will be different next season.
"We saw Southampton and Norwich come down and the kind of player they recruited and we are going to be that type of club. We have to act differently."