Match-fixing rife but Deportivo are innocent - Lendoiro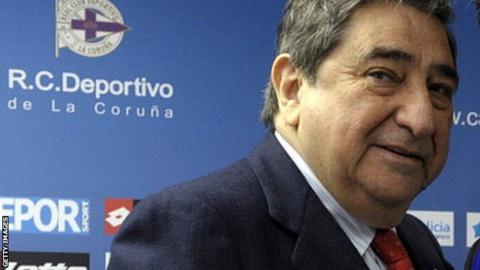 Deportivo La Coruna president Augusto Cesar Lendoiro has claimed match-fixing is widespread in Spain, but denies his own club rigged a 4-0 win over Levante.
The Spanish football league (LFP) is investigating the result, on 13 April, after Levante's Javier Barkero briefly accused some team-mates of not trying.
"Deportivo has never taken part in this kind of match-fixing," Lendoiro said.
But he claimed that "almost all" games at the end of 2010-11, when Deportivo were relegated, were "fixed".
Lendoiro said that he wanted all fans to be "absolutely clear" over his side's innocence.
But he added: "We all know what has happened these years, the media being the first. Some games could be meddled with in the coming weeks."
Barkero apparently accused his team-mates after they conceded three goals in the first 27 minutes of their home match against relegation-threatened Deportivo on 13 April but later retracted the comments.
Levante, who are currently 12th, six places and nine points above the relegation zone, released a statement saying that they "believe in the professionalism and integrity of all our players" and will "help and collaborate" with an investigation.
Javier Tebas, elected as the president of the Spanish football league in March, disagrees with Lendoiro on the extent of match-fixing in the national game, saying it involved "a minority of one percent".
However, he did add: "It is a cancer that must be eradicated. If you don't take immediate action it will spread and will destroy our sport."
European police revealed in February that
The specific matches involved cannot be revealed for legal reasons.
It is believed that the match-fixing was being orchestrated by an organised crime syndicate based in Singapore.