Luke McCormick returns to Plymouth Argyle in one-year deal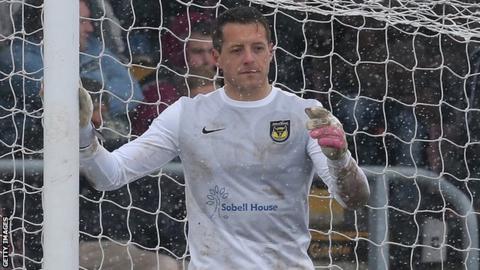 Plymouth Argyle have re-signed their former goalkeeper Luke McCormick on a one-year deal.
The 29-year-old, who was released by League Two club Oxford United earlier this week, had been
McCormick was sacked by Argyle in 2008 after causing the death of two children in a car crash.
He served about half of a seven years and four months jail term, but
He and made 15 appearances for the club.
"Although Luke made a dreadful mistake with unthinkable consequences, he has served his time and is totally remorseful," said Argyle chairman James Brent.
"While I respect others who have alternative views, from a moral standpoint, the board and I think Luke is entitled to rehabilitation.
"John Sheridan wanted to sign him and the club is totally supportive of that," Brent added.
The club says McCormick will also donate a 'significant sum' to a local children's charity and donate time to support it.
Meanwhile the club have also re-signed their longest-serving player Paul Wotton.
The 35-year-old has agreed a one-year extension to his deal and will work with the club's youth academy.
He has made 475 appearances for the club, the third-highest in Argyle history, and also had spells at Southampton and Yeovil Town.
"I'm like every other player - I want to play in the first team on a Saturday, and I will be doing everything I can to get in the team," he told the club website.
"At the same time, I have got a role in the academy which I am looking forward to.
"I have been doing some work in the academy anyway, and I'm like 90% of all footballers - I want to go into coaching when I finish playing, so it's a great chance for me to learn about the day-to-day running of football."