Linfield build for future setting up elite development squad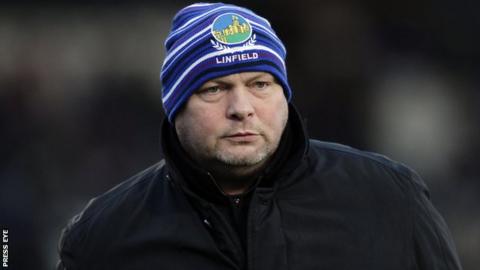 Linfield are setting up an elite development squad in the latest overhaul of the club's playing staff.
Manager David Jeffrey has confirmed the one year pro contracts given to Conor McMenamin and Thomas Healy are the first step towards an elite squad.
The aim is to help young players make the transition to first team football.
"In effect, we are creating an elite development squad to protect our interests in ensuring we keep our best young players at the club," he said.
Linfield won six doubles between 2006 and 2012 under Jeffrey, but last season was the most challenging of his managerial career as the Blues finished well adrift of league champions Cliftonville in third place.
Setting up an elite development squad in conjunction with recent high-profile signings of Andy Waterworth and Mark Haughey indicates that the squad is being rebuilt from top to bottom.
"In the past when players were no longer eligible for the youth team, the decision had to be made were they good enough for the first team squad or should they move on," Jeffrey told the club website.
"Unfortunately, we have lost some players who maybe hadn't developed sufficiently when we were faced with having to make this decision.
"We're trying to make sure that this will no longer be the case.
"When players of a certain age are no longer able to play youth team football and are not quite ready for the first team squad, we aim to continue to invest in their development and the coaching of them."
McMenamin made several first team appearances towards the end of the season and Healy was captain of the victorious Harry Cavan Youth Cup squad.