Gus Poyet: Brighton treating play-off first leg like a normal game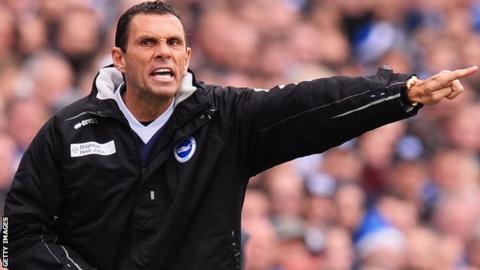 Brighton boss Gus Poyet has told his squad that the Crystal Palace play-off clash is "a normal game of football".
Albion take on Palace at Selhurst Park in the first leg on Friday night.
"It is a normal game. I've had a lot of messages and calls this week telling me otherwise, but this is not what I have said to my squad," he told BBC Sussex.
"It doesn't matter now that's it's two legs, we go to win a game - this is normal. The idea should be to never think like that until Friday is over."
Aside from the obvious incentive of a place at Wembley to play for promotion to the Premier League, the added bite to the game comes in the form of a bitter rivalry.
Despite being over 40 miles apart, Brighton and Crystal Palace have been intense rivals since the late 1970s, manifested by the personal animosity between then Seagulls boss Alan Mullery and Eagles manager Terry Venables.
"We want some nice banter, the fans singing against each other but nothing more," Poyet continued.
"This is not life. We are not talking about your family or your health, we are talking about football."
Brighton are currently unbeaten in nine matches, a run which saw them finish the season just four points shy of the second automatic promotion place.
Palace faced the Seagulls as recently as March and were on the wrong end of a 3-0 scoreline at the Amex Stadium.
However, the season's league meeting at Selhurst Park was the complete reverse result.
"I think that it doesn't matter now what the results have been, there are no secrets between the teams," he added.
"I said to the players, 'change nothing in your life' - just be normal.
"If your kid wakes up at three o'clock in the morning and you usually go to him then go to him.
"This is a normal football game. I know there are more consequences but it is important in our life, our training and all the preparation, that we do everything the same."