Celtic: Georgios Samaras tribute to former midfielder Stiliyan Petrov
Last updated on .From the section Football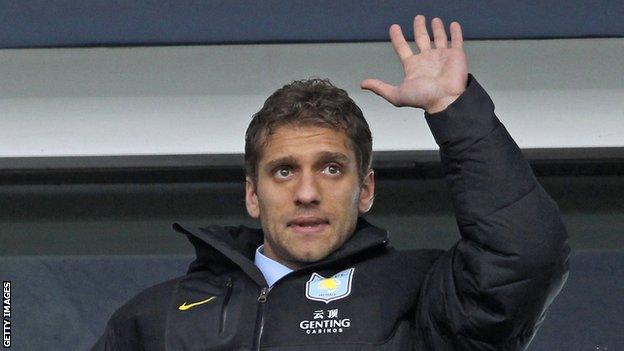 Celtic forward Georgios Samaras has extended the club's wishes to Stiliyan Petrov following his retirement.
The 33-year-old Bulgarian, who spent seven seasons at Celtic, is battling acute leukaemia.
He was diagnosed with the condition in March 2012 but is now in remission.
"He is a legend at the club, did great things with Aston Villa and had a really nice international career," said Samaras.
Midfielder Petrov scored 64 goals in 268 appearances during his time at Celtic before moving to Aston Villa in 2006.
He announced his retirement on Thursday, saying he was "overwhelmed" by the support he had received.
"I remember when I was a young player at CSKA Sofia and the good life was all I was interested in," said Petrov.
"Celtic came in for me and I moved to Glasgow, to another country, to a new world. I didn't speak the language and I thought it would never happen for me. I knew nobody.
"I came to appreciate so much the opportunity to work with that level of professional people because it made me something like them.
"At Celtic Football Club and at Aston Villa Football Club I was privileged to live a life competing at a high level and playing the game I love, supported by the most passionate fans."
Samaras said the Celtic squad were thinking of the former club favourite.
"It's really hard to say something about this situation as sometimes you can't find the right words to say about some things you feel," he added.
"Myself, all the guys in the dressing room, and, of course, all the people at Celtic and the supporters, wish him all the best for this really difficult battle he is having.
"I just wish him and his family all the best, and hopefully he will win as he is a fighter."
Celtic manager Neil Lennon backed his former team-mate Petrov to win his latest battle.
"As a player, he was the all round modern-day midfielder," said Lennon. "He was box to box and technically very good.
"He was a fanstastic goalscorer, very humble; a great team-mate and a great friend.
"Unfortunately, his spectacular career has been curtailed. He's got other battles to win in his life and I'm sure he will."