Liverpool captain Steven Gerrard aims for pre-season comeback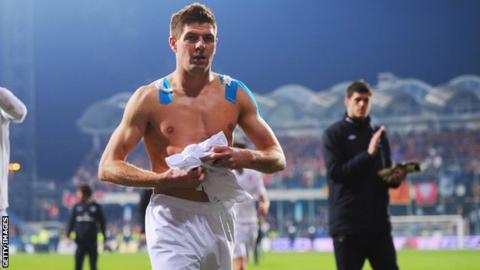 Liverpool captain Steven Gerrard says he is aiming to recover from a shoulder operation in time for the pre-season.
The 32-year-old played with the injury for more than three months, but Liverpool were forced to bring forward his surgery when the problem worsened.
"We've decided the best decision is to get it done now so I am ready for pre-season training," the midfielder said.
The England skipper will miss the Reds' final two Premier League games against Fulham and Queens Park Rangers.
He will also sit out England's friendlies against the Republic of Ireland on 29 May and Brazil on 2 June.
Gerrard has started all 36 of Liverpool's Premier League games so far this season, and will now lose his ever-present record.
"It's disappointing," he said, "But to be honest it's not a very important personal achievement. What is more important is that I am fit and available for the team.
"I first got the injury against Oldham in the FA Cup when I came on as a sub and I've since aggravated it on numerous occasions.
"It's probably better if another player plays because he'll be able to offer more because the shoulder is quite sore."
Gerrard played in Liverpool's goalless draw with rivals Everton on 5 May - a result that leaves the Reds seventh with 55 points and unable to finish higher than sixth.