Akpala called up by Nigeria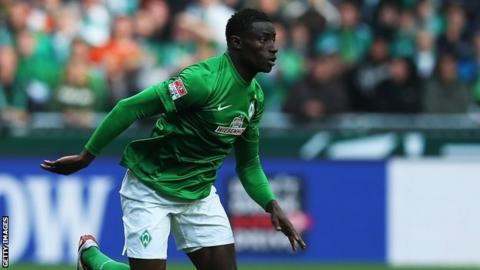 Nigeria have called up Joseph Akpala for the upcoming 2014 World Cup qualifiers and Confederations Cup in Brazil.
The Werder Bremen striker replaces the injured Emmanuel Emenike, who recently underwent knee surgery.
The 26-year-old Akpala, who last played for Nigeria in 2010, was picked ahead of Turkey-based Michael Eneramo.
"We've handed Akpala a late recall because he brings a lot in the absence of Emenike," coach Stephen Keshi said.
"It's very important to give a chance to other players when the opportunity comes."
Akpala, who made his debut in 2008, is expected to make his return for the Super Eagles in a friendly game in Houston, Texas against Mexico on 31 May.
The African Champions Nigeria face Kenya and Namibia in 2014 World Cup qualifiers in June before heading to Brazil for the Confederations Cup.
Nigeria face Tahiti, Uruguay and Spain in the group stages in Brazil.
Meanwhile, Nigeria coach Stephen Keshi has decided to pick up the salary of his Togolese assistant Houadonou Valere, who was affected by a recent backroom shake-up.
Valere, who also worked with Keshi to qualify Togo to the 2006 World Cup and when he managed Mali, was laid off by a broke Nigeria Football Federation (NFF) in a total restructure of backroom staff last month.
"I need my assistant and I don't think it's too much of a sacrifice to make," Keshi said.
"I understand the financial state of the NFF and I decided to do this for a colleague and friend because I can't lose two assistants that way.
"We have important competitions and qualifiers ahead and the team need his contribution."