Yobo backs Moyes at Man United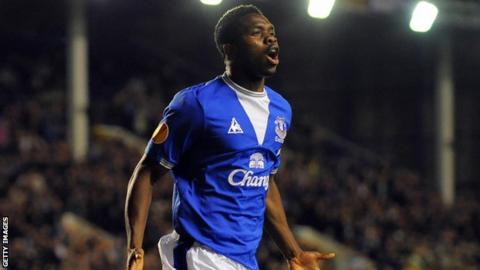 David Moyes has been backed to succeed in his new role as Manchester United manager by the first player he signed at Everton, Nigeria's Joseph Yobo.
The 50-year-old starts at Old Trafford on 1 July after signing a six-year contract to end 11-years at Everton.
Yobo, who played for Moyes from 2002 to 2012, is confident the Scot is well equipped to replace Sir Alex Ferguson.
"Given time and support Moyes will succeed at Old Trafford," the Nigeria captain told BBC Sport.
"Obviously, no-one can repeat what Sir Alex (who delivered 13 Premier League titles in 20 years) has done at the club. But if there is anyone that can come close to that then Moyes fits in perfectly well.
"He's the perfect choice and no British manager deserves it more than he does.
"Moyes took over as a young and inexperienced manager at Goodison Park but somehow turned Everton into a top-seven side despite operating on a tight budget."
Yobo, who now plays in Turkey for Fenerbahce, also pointed to Moyes's ability to nurture and develop players.
It was Moyes who gave Wayne Rooney his Premier League debut before the striker was sold on for a handsome fee to United.
"Moyes is a winner," said Yobo. "He is an astute manager with an eagle eye for players and promising young talents.
"He's got the charisma to excel and knows how to relate with his players and the backroom staff.
"He is a smart manager in the transfer business and spends an incredible amount of time on both minor and major football details."
Yobo also sees common traits between Moyes and Ferguson and thinks this will help the new United boss make the transition to a club with a higher profile and greater resources.
"Moyes is kind of similar to Ferguson, especially in his short journey as a manager," added Yobo.
"He has obviously shown at Everton what he can do with limited resources and he will look to lead a bigger club in Manchester United in the same way.
"People say he hasn't won trophies but he has the charisma, strong financial acumen and other essentials to do that now.
"His dream is to win trophies and continue to excel, and I don't think there's a British manager who is more capable than Moyes."
Yobo made more than 250 appearances for Everton under Moyes, helping them qualify for the Champions League in 2005 and playing in the side that lost the 2009 FA Cup final to Chelsea.
His country's most-capped international, Yobo says he became a successful centre-back under the guidance of the Scotsman.
"It was a big decision to go to Everton because I had other bigger offers but Moyes convinced me and told me how he wanted to make me a top influence in his team," revealed Yobo.
"Everything I learnt as a central defender I did under him because he was a stopper in his days.
"I came from leagues in Belgium and France, where we played three at the back but turned me into a confident central defender a back four system.
"He doesn't like talking about himself and his role in shaping careers but Moyes has had the biggest influence on my career at club level."
Yobo also paid tribute to Moyes's man-management skills and feels he owes his former boss a debt of gratitude.
"I joined the club as young vulnerable player and could have lost my head somewhere along the line but Moyes kept me grounded and humble," Yobo added.
"His office was always open to any of the players and he'll take you to one side to explain your weakness and strengths, where he feels you could get to with hard work."
Yobo went on to became the first African player to captain the Toffees when in 2007 he led the team out in their 2007 Uefa Cup tie against Larissa at Goodison Park.
Everton still occupies a place in Yobo's heart and while he predicts Moyes "can become a great manager" at United, the Nigerian also believes the Toffees have a bright future, too.
"I think Moyes has left a strong legacy they can build on," he said.
"I know after more than a decade it will take a lot, but this is a special club and hopefully they will provide the next manager with the financial support to continue on the upward curve."