Sir Alex Ferguson: West Brom block Man Utd ticket sales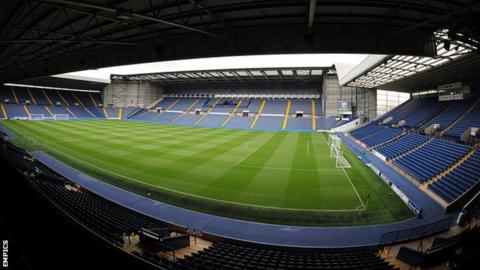 West Bromwich Albion have put a block on tickets sold via an exchange website for their match against Manchester United on Sunday 19 May, Sir Alex Ferguson's last game in charge.
The level of tickets ordered for the end-of-season clash through Viagogo increased shortly after Ferguson announced his retirement on Wednesday.
Many ordering seats - for home areas of The Hawthorns - were United supporters.
Albion will not honour tickets sold via this method after 08:00 BST on 8 May.
The exchange service is used by season ticket holders to sell their seat to a fellow Baggies fan if they are unable to attend themselves.
However, Manchester United season ticket holders and members took advantage of the scheme to try to get a seat for the fixture.
"With Manchester United's help, we have identified that the vast majority of these orders were lodged by United season ticket holders/members," a West Brom spokesman said.
"This [block] is in keeping with all terms and conditions which stipulate that the club reserves the right not to honour orders from buyers that are suspected to be opposition fans.
"The safety of fans is paramount, which is why we so vehemently uphold the rules regarding the segregation of supporters.
"The club are working closely with the local authorities to limit the potential for away fans to obtain tickets in the home sections.
"I am sure that the vast majority of our supporters will keep their tickets and come and get behind the team - like they do at every home game.
"However, we are monitoring all potential platforms where there is the potential for tickets to fall into the wrong hands."
The match against West Brom will be Ferguson's 1,500th and final game of his 26-year spell as manager of Premier League champions United.
The 71-year-old - who will be replaced by Everton manager David Moyes in July - has won 38 trophies during his reign at Old Trafford and will now become a director and ambassador for the club.