Gareth Bale 'made to measure' for Man Utd, says Mark Hughes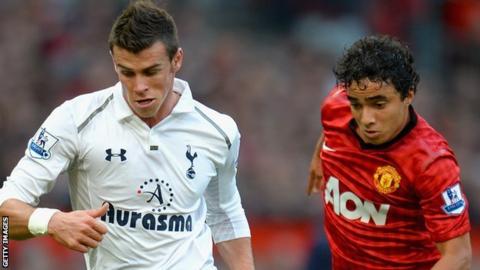 Tottenham Hotspur's Gareth Bale is "made to measure" for Manchester United, according to former Old Trafford striker Mark Hughes.
Forward Bale, 23, is under contract until 2016, but boss
But amid speculation about Bale's future, Hughes told Sport Wales: "From my point of view I would love to see him in a United shirt.
"I think he's made to measure for them."
Bale has dominated Premier League awards following an outstanding season in which he has scored 25 goals in all competitions for Spurs.
He was named Football Writers' Association Footballer of the Year a fortnight after winning the Professional Footballers' Association's Player of the Year and Young Player of the Year awards.
Only Manchester United's Robin van Persie and Luis Suarez of Liverpool - both centre-forwards - have scored more goals than Bale during the current season, and his consistently strong form, which also includes five goals for Wales, has attracted transfer interest at home and abroad.
But Hughes, who also played for Barcelona and Bayern Munich during a stellar career, says the Premier League can continue to give Bale the biggest of platforms on which to play.
He said: "When I went abroad the [it was to the] big, attractive leagues and financially it was more advantageous to go abroad.
"The likes of Italy and Spain were paying more money then so that that was one of the motivating things.
"But Gareth doesn't have to leave the Premier League because the Premier League is huge worldwide.
"His profile would be as big playing in the Premier League as it would playing in La Liga [Spain] or Serie A [Italy]."
However, Hughes accepts that Bale's status as one of the game's most-coveted talents means few options are available to the Cardiff-born player.
"Very few clubs in world football can really afford the amount that people seem to put on his head," said Hughes.
"So maybe his choice of clubs will be limited in that respect.
"So if the clubs that can pay the money aren't what he feels are best for his career, then he may stay where he is.
"But at some point in the future there'll come a time where you feel you need to change for whatever reason - it may be your personal circumstances or whatever - but I'm sure at some point he'll play for one of the world famous clubs."