Newcastle want Paul Dummett 'in Championship, not at St Mirren'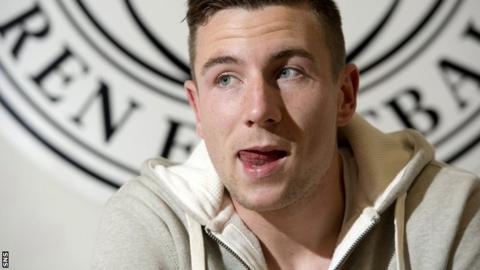 Paul Dummett says Newcastle United want to send him on loan to a Championship club next season but insists he would be happy to stay at St Mirren.
The 21-year-old defender is in his second spell on loan in Paisley.
But he has been offered a new one-year contract extension by Newcastle.
"Newcastle think that England is a better league to play in, so they want me to go to the Championship, but I would be happy to come back if I got the chance," said Dummett.
However, Alan Pardew's side remain in relegation trouble and have put their plans for next season on hold until they secure a Premier League place.
Along with Newcastle midfielder Conor Newton, Dummett helped St Mirren lift the Scottish Communities League Cup, leading to interest from English second-tier sides Bolton Wanderers, Huddersfield Town and Doncaster Rovers.
"Conor and I have both been offered new one-year contracts," said Dummett. "I'm not sure what's happening yet and I will have to speak to my dad first.
"But I have loved my time up here. It's improved me as a player.
"If we sign up with Newcastle again, I think the plan will be to go out on loan again.
"I don't know where though, that's not for me to decide.
"Newcastle decided to send me here to St Mirren, so who knows what will happen next season?"
Dummett says that playing week-in, week-out in the Scottish Premier League has boosted his confidence.
"I've played in front of big crowds at places like Celtic Park and in the cup final, something I'd never have achieved playing for Newcastle's reserves," he said.
"It has gone well and I've loved it here."
The declaration by Dummett - who arrived in Scotland last summer and has made 33 appearances for Saints - comes just days after Newton also announced he would be happy to sign on again with Danny Lennon's side.
St Mirren are hopeful of keeping both players for another year and have secured an agreement from Newcastle that, should the players reject their offers of a new deal at St James' Park, the English outfit will waive their right to compensation for rearing them.
Instead, they will insist on a sell-on clause so they can profit should the pair be sold on in the future.