Swansea's Ashley Williams awaits Sir Alex Ferguson's big day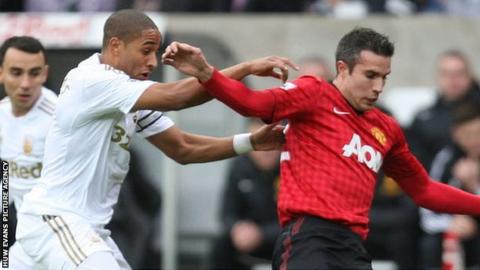 Ashley Williams is looking forward to playing in Sir Alex Ferguson's last game in charge at Old Trafford, despite incurring the wrath of the Manchester United manager this season.
Ferguson called for Swansea defender Williams to be banned after the 1-1 draw in the Premier League in December.
He said striker Robin van Persie could have been "killed" and called for action from the Football Association.
"He [Ferguson] was a little bit angry that day," said Williams.
The Wales captain was cleared of any wrongdoing after the FA reviewed footage of his clearance, which resulted in the prone Van Persie being struck on the head by the ball at close range.
The Swans visit Old Trafford on Sunday as Ferguson leads United for the last time at home after announcing his retirement on Thursday after 26 years in charge.
Williams is looking forward to playing in a "little bit of history" and says he has no hard feelings over Ferguson's outburst in December.
"I didn't think too much of it at the time, you know he said what he said after the game and I did my interview, and that was that really," he said.
Williams added that Ferguson had not apologised for his outburst, nor did he think he was owed an apology.
"He didn't need to [apologise] I don't think. That was his opinion and he's not going to apologise to me," he said.
Williams does not expect Van Persie to hold a grudge either.
"I'm sure he's not too concerned about me coming to play against him," added Williams.
"He's just won the league, he's had a great season and I don't think he'll have any ill feeling.
"We've gone past that now, I've got a lot of respect for him, he's a great player. I think he's had a brilliant season and he seems like a nice enough guy."
Swansea want to maintain their recent good form which has seen them draw with Manchester City and beat Wigan in the past seven days.
And Williams says it is important to finish positively after a season which has seen the Welsh club win the Capital One Cup and put themselves in line for a top-10 Premier League finish, while Ferguson's retirement has added extra spice to the game.
"It's a tough game anyway," added Williams.
"It's one of the hardest places in the world to go to against the champions.
"That makes it hard enough, but the fact that it's his last home game makes it tougher.
"They'll want to give him a good send off and perform well for him, so it's going to be hard for us. I'm sure they won't be distracted and will give it their all.
"He's the governor of football. You can't help but have respect for him and everything he's done and his longevity in the game and what he's achieved. Everyone knows he's the top dog, really.
"It's funny that it ended up up being us playing in this game, his last home game. I think it's something we're all happy to be a part of.
"We want to play our part in the game and play as well as we can and we know we'll be a part of a little bit of history on Sunday."