David Beckham considers longer stay at Paris St-Germain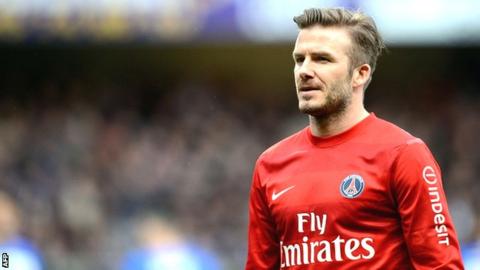 David Beckham is considering extending his stay with French club Paris St-Germain into a second season.
PSG have offered a one-year contract extension to the five-month deal Beckham signed in January.
The 38-year-old midfielder is expected to decide whether or not to accept the proposal in the next week or so.
Beckham currently donates his salary - of at least £1m - to charity and that situation is likely to remain the same if he stays with the Ligue 1 leaders.
The former Manchester United and Real Madrid player, who won the last of his 115 England caps in October 2009, joined the French club after completing five and a half years in the United States with LA Galaxy in December.
He has made 12 appearances for PSG but was sent off in his last match against Evian Thonon on 28 April.
Earlier this month PSG assistant coach Paul Clement said Beckham had been "a breath of fresh air" since joining the club.
"He gets on with everyone - first out to training, the last one back in, a real enthusiasm for the game," Clement added.
PSG are owned by the Qatar Investment Authority and are one of the richest clubs in the world, with a squad full of expensive acquisitions.
Swedish international Zlatan Ibrahimovic joined for a reported £15.7m last year, while Brazilians Thiago Silva and Lucas Moura are both thought to have cost over £30m.
They reached the Champions League quarter-finals this season before being knocked out on away goals by Barcelona and can wrap up their domestic league this weekend.