Neil Lennon wants 'a few more Celtic years'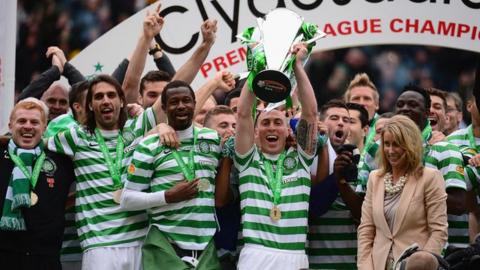 Neil Lennon gave a hint that his future lies with Celtic and not Everton as he described winning back-to-back Scottish titles as an "amazing" experience.
Asked if he would be interested in a move, the Celtic manager told BBC Scotland: "You might never replicate what you get here.
"It's an unbelievable club, unbelievable support, I've been privileged to be part of for 13 years.
"And I hope that continues for a few years yet."
It is believed that to take over from Manchester United-bound David Moyes, while , is also a front runner.
However, .
Ahead of , Lennon again dismissed the link as speculation and pointed out that he plans talks about his future with the board and major shareholder Dermot Desmond in the next couple of weeks.
"Everton are a big club with a great history, but so are Celtic," he said.
"This club has given me everything, it's given me my chance in management, it's given me some of the greatest days of my life and I've got a great young team here, which we all want to progress.
"I've got a great belief in myself. So, if any opportunity came along further down the line, it wouldn't faze me.
"But there's not many jobs bigger than Celtic and there's not many jobs under the scrutiny, analysis and opinion of a job like Celtic."
After his side took possession of the league trophy, Lennon addressed the crowd at Celtic Park, thanked them for their support and predicted good times ahead.
"It's another memorable day in the history of the club," he told fans. "To celebrate the 125th anniversary of unique history, unbroken history, is something very special.
"As a club, we're united, from the board down to the playing staff, to the academy, and hopefully you can see the club's going in the right direction and hopefully there'll be many more days like this to come."
Lennon lauded his players after they ended their home fixtures in style with goals from Joe Ledley, Charlie Mulgrew, James Forrest and an own goal from Frazer Wright.
"We finished it off the way we wanted," said the manager, who gave his winners' meal to young fan Kathleen McGovern.
"The team was brilliant and so was the support.
"These are special days that you have to cherish because they go by so, so quickly, but they are great reward for a season's work.
"When you play, they go so quickly and you probably don't appreciate what you have.
"You're young and you're thinking it's an annual thing, but it's hard work."
Lennon said the highlight of the season was Celtic's run to the Champions League's last 16.
"We've been sensational at home. Our away form needs a bit of tidying up, but you can see what a good core of a team we have and, when they put it together like today, they are pretty special to watch," he said.