Frank Lampard: Chelsea record breaker wants to stay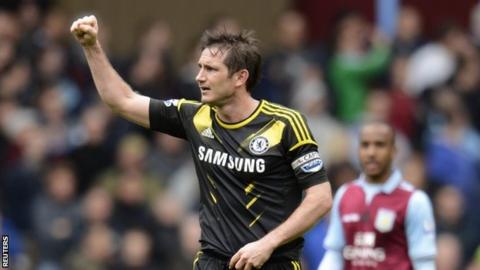 Chelsea midfielder Frank Lampard is hoping to remain at the club next season after becoming the Blues' all-time top goal scorer.
The 34-year-old scored his 202nd and 203rd Chelsea goals as they and all but clinch a Champions League spot.
He said: "It's great to get the record, especially in an important game.
"I'm hoping that I'll be here and at the end of the season we'll get a decision on that."
The England international, who joined Chelsea from West Ham in 2001, is out of contract in the summer and the club have yet to offer him a new deal.
"Similar to last year, it's been a strange season - up and down - but we have a huge week ahead and today was a massive result for us," he told BBC Sport.
"It's absolutely amazing personally - I never dreamed I've get near 200 goals, even 50 or 100. I'm very fortunate, I have to thank my team-mates over the years and the lads we've got here now. The fans have been a huge support.
"It is emotional when your team-mates are surrounding you and the fans celebrating. It was a very, very amazing day for me. I did get a bit emotional there. I always dedicate my goals to my mum, I lost her a couple of years ago. Time passes but she was my biggest supporter and she's always with me, her and my dad.
"I also had a booking so I didn't want to jump in the crowd on my 203rd goal. I'd remember them all if I sat down and went through them. Obviously some stick in the memory, the big ones."
Bobby Tambling, 71, was the club's previous top scorer with 202 between 1959 and 1970.
Chelsea interim manager Rafael Benitez, who is almost certain to leave Stamford Bridge this summer, said: "I'm really pleased for Frank and the team. He's a real professional. He trains well and is always pushing and ready to play."
The Blues are now almost certain to get into the Champions League, barring several results going against them and a 17-goal swing on goal difference.
Lampard, who has made 607 appearances for the European champions, continued: "Today was really nice not only personally but it got us into the Champions League and a club like Chelsea need to compete at that level. Strange things have happened at this club over the years but the one constant is the success.
"The manager situation has been pretty clear for a while now so the manager and the players want to make the best of the situation. I hope to be here next year. We've got a huge week coming up and hopefully at the end of that week we can sit down and sort it out.
"The club have always been great to me and hopefully that can happen. The way we're playing as a team, it's great to be a part of it with exciting young players and I want to stay. I love putting the kit on. From the minute I came to leaving the pitch today. I want to continue doing that."
Villa manager Paul Lambert said: "Frank Lampard has been doing that for years. He's a fantastic footballer and has had a great career."