Chris Johnston needs protection, says Kilmarnock's Kenny Shiels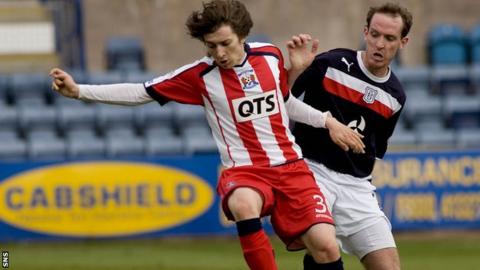 Kilmarnock boss Kenny Shiels wants referees to offer promising winger Chris Johnston more protection.
The 18-year-old was a constant threat with his direct running and scored in the 3-2 win at relegated Dundee.
"Chris is going to be hard to referee and they have to develop an understanding of a seven-stone player who has a change of pace," said Shiels.
"He was fouled twice in the box but didn't get the penalty. Anywhere else on the pitch and it's a free-kick."
Johnston scored the visitors' second with a brilliant finish 13 minutes into the second half to put Killie ahead for the second time and could also have had a penalty after Dark Blues defender Kyle Benedictus barged him over in the box.
Referee Euan Norris waved away his claims while the home support jeered the teenager for going down too easily.
"When he beats people, he doesn't dive," added Shiels. "Believe me.
"When he gets the ball, his mechanics and the way he changes direction so rapidly in that moment make him vulnerable. The slightest touch will send him down.
"Scottish supporters need a player like that, they are paying 20-odd quid to get into a game, so we have to protect him and I felt he wasn't protected. Once the referees like Euan get to know him, they will say, 'Wow, he's a good player, let's give him protection'."
Rory McKenzie gave Kilmarnock an early lead after a mazy run but Ryan Conroy tapped home from close range to level after 19 minutes.
Johnston's sweet strike was followed by Sammy Clingan's well-placed shot before Mark Stewart grabbed a late consolation goal.
"We had seven kids on today and you have to say, they're like goslings," enthused Shiels on BBC Radio Scotland.
"They mature and they surprise even me. I've worked with so many good young players - that's the future of our club.
"The remit, which hasn't been given to me by the chairman, it's been given to me by myself - which is what I'm good at - is to develop young players, sell them and pay the debt off and make us a resurgent, positive club in the black.
"That's going to take a lot of time. I want to be part of this journey.
"I've never been as happy to win a game of football as I was today, because they're brave, these goslings. They get the ball, they express themselves and make mistakes - they're inconsistent.
"But the crowd is proud of them and I'm proud of them."