Mikel Obi eyeing silverware as Europa finale approaches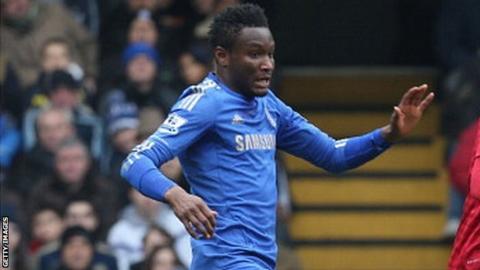 At the end of another eventful season, Nigeria midfielder John Mikel Obi believes it is "business as usual" at Chelsea, as the Blues bid to end the campaign with silverware before appointing a new manager this summer.
There are numerous parallels to last season, when Chelsea won the FA Cup and Champions League titles under interim boss Roberto Di Matteo, but finished sixth in the table.
This term the Blues - under another interim manager, in Rafael Benitez - have been in a similar position.
They have now all-but secured their Champions League spot for next season by beating Aston Villa 2-1 on Saturday. Their 68th game of the campaign is Wednesday's Europa League final against Benfica.
Mikel Obi is uncertain what the summer will bring, but a second coming of the Special One has been mooted, with Real Madrid boss Jose Mourinho strongly expected to return to Stamford Bridge.
"I've been here a long time now and I've seen a lot of managers come and go - it's business as usual," said Mikel, who joined Chelsea under Mourinho, in 2006.
"Carry on working, carry on playing for the club, and we'll see who is the next manager."
The players, Mikel says, must focus on performing and winning, irrespective of speculation over managers or a congested calendar.
"(The season has) been very physical for us, mentally as well," said Mikel, who has recovered from a hip problem.
"This is what we do. We're football players, we have to get on with it.
"If you want to play for Chelsea you want to win trophies and we want to go to the closing stages of every tournament we play.
"We're all working hard, we're all concentrating on each and every game. It feels special for us, for the players, for the club. It's going to be good for us.
"We're playing against a very good team in Benfica. They're a very good side, they play good football.
"It's going to be tough, but hopefully we can win this trophy."