Aberdeen: Derek McInnes planning to re-shape his team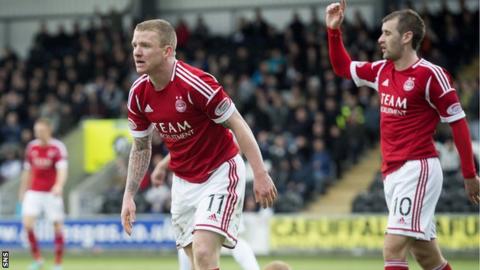 Derek McInnes has predicted several summer changes to his Aberdeen squad after drawing 0-0 with St Mirren.
"Every manager has to re-shape their team, and we've got the opportunity to do that with some out of contract players," said McInnes.
"We're looking for improvements and will try and bring in that freshness.
"I can't quantify it, because I haven't spoken to each player yet, but there's eight out of contract and a lot of those will be moving on."
The Dons dominated in Paisley but could not find the crucial goal which would have prevented it being the third Scottish Premier League goalless draw between the sides this season.
Much of his team's performance drew praise from McInnes, however he recognises the need to ensure Aberdeen are better prepared for the 2013-14 season.
"A lot of them have served us well, but it's just solely so that we can re-shape the squad," he told BBC Radio Scotland.
"How many I let go won't equal how many we bring in. It'll be about half of what we get from that, but we've got to try and reshape it.
"There's a lot that's good about the team, but to make sure we're not playing in the bottom six next season, we have to try better."
Aberdeen had chances through Scott Vernon and Ryan Jack, with the latter hitting the post with a volley in the second half.
And Jonny Hayes had the ball in the net only for it to be ruled out by referee John McKendrick for offside.
"We were still trying to put our foot to the pedal and finish the season strong, it's the very least our support deserves," added McInnes.
"Today had sporadic spells of quality. I never felt we were going to lose, which is testament to the players and what we're trying to do.
"Even though we were better than St Mirren in terms of chances, the end result is what shows us where we are this season.
"It's just okay, but it's not enough and we need more from us."