David Moyes: Man Utd's new boss backed by Sir Bobby Charlton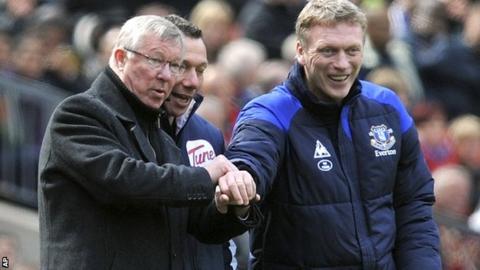 Sir Bobby Charlton says incoming Manchester United manager David Moyes will overcome the "awe" of working at the club and prove a big success.
Everton boss Moyes will from Sir Alex Ferguson, who on Wednesday.
"He's maybe been a little bit in awe of everything that happens here - you can't help it when the club has become so big," United legend Charlton said.
"The mere fact he thinks he can improve it is just fantastic."
Moyes, 50, is set to replace the most decorated manager in British football history, despite not having won a major trophy in his 11-year stay at Everton.
But Charlton, who played under former United manager Sir Matt Busby and captained the team to European Cup glory in 1968, endorsed Ferguson's belief that Moyes is the right successor.
And he also insisted Ferguson would not overshadow Moyes, despite becoming a club director and ambassador.
The arrangement is similar to the one instituted when Busby retired in 1969 and stayed on as general manager, with new boss Wilf McGuinness then replaced a little over a year later.
Charlton said: "Alex will help David Moyes. He won't intrude, but he will help him. Like Alex, Moyes has a work ethic and maybe there's something the Scots know that we don't.
"He's going to be quite happy. He's a well-meaning lad. He's very, very professional and I think he will be a big success at our club."
Midfielder Michael Carrick also said he was "very excited" to be working with former Preston boss Moyes.
He told the BBC's Sportsweek: "I'm very much looking forward to moving onto a new chapter with the club and personally in my career working under David.
"I think he has done an unbelievable job at Everton over a long period of time to keep them up there challenging for Europe.
"He hasn't had the money of the top four or five clubs to spend but he has always put a team out there that is challenging and I've only heard good things about him from players that have played under him.
"I'm sure he is going to come here and have a successful time.
"He's not going to have to change a great deal overnight because things have gone so well of late, but he's his own man and he's going to do his own things and we are all fully behind him as players."
Carrick, who was a key figure in Manchester United's run to this season's Premier League title, said he and his team-mates were left speechless when Ferguson, 71, revealed his decision to the players.
"The initial thoughts were we were really disappointed and quite gutted when the manager told us as a team. It was quite sad in the dressing room - that was the initial shock to it but, as time passes, you deal with it and move on.
"He's arguably the best manager of all time so for him to be sitting in the same changing room telling us that it's his time to retire and giving us the reason, it was quite an emotional time and we were well aware of the importance of it.
"It was silent. What can you say after that? Everyone was digesting the news. It was well documented for a day or two in the media that was there was something coming, we weren't quite sure what. So when the boss pulled us together and told us, that was it.
"It was hard to take but we fully understand and appreciate everything he has done, not just for this football club but everything he has done for the world of football in the last 30-35 years."