David Moyes says new Everton boss will find players a joy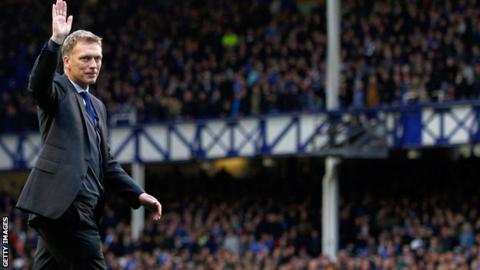 Outgoing Everton manager David Moyes says the club's new boss will inherit a team that is a joy to work with.
Moyes, who takes charge of Manchester United on 1 July, saw his side win 2-0 against West Ham in his final home game in charge at Goodison Park on Sunday.
"Whoever comes in is going to have joy working with the current set of players," Moyes said.
"I haven't recommended anyone for the job to the chairman. If he asks me for my opinion then I'll give it to him."
Two goals by Kevin Mirallas ensured Moyes' 213th Premier League home game in charge of Everton ended in victory.
His last game in charge before succeeding Sir Alex Ferguson at Old Trafford is away at Chelsea on 19 May.
But Everton's win on Sunday ensured a top-six finish in the table for the fifth time in Moyes' 11 years in charge at Goodison Park.
Moyes waved to a capacity crowd, which included some of his former players including Tim Cahill and Duncan Ferguson, when he emerged from the tunnel shortly before kick-off.
With his father, also called David, watching at Goodison Park, the 50-year-old Scot was given a rousing reception when the team embarked on a lap of honour after the final whistle.
"There's always a worry when you're joining another club, but Everton fans were magnificent for me today," Moyes added.
"David Unsworth scored the first goal of my reign at Goodison 11 years ago after about 25 seconds. And I'm delighted I finished it off here with a win.
"I thank all the players who have worked with me.
"I've got another weekend to go and I'm going to make sure I'm at it with the players because we want a result at Chelsea.
"They know what to expect.
He added: "The victory against West Ham was deserved. We're going to finish in a good league position and I'm happy with that. It's a great team."
Everton's club captain Phil Neville, who missed the game because of a knee injury, was also given a warm send-off on the lap of honour.
The former Manchester United defender announced last month that he was leaving the club at the end of the season.
And Neville hinted after the West Ham game that he might retire from playing.
"I feel my standards have dropped a bit lately and I've struggled a bit physically," added the former England international, who will join the England Under-21 coaching staff for the European Championship in Israel in June.
"I've got some fantastic options and I need to weigh things up with my family."