Sir Alex Ferguson: Final farewell was a party 26 years in the making

By Phil McNulty
Chief football writer
Last updated on .From the section Football235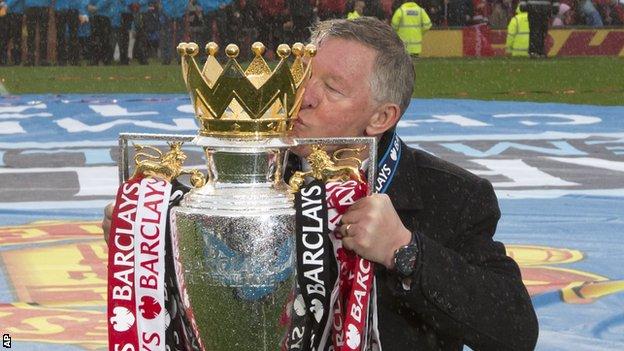 The man who made Manchester United's impossible dream possible at times resembled the statue erected in his honour near the Old Trafford stand named after him.
Standing away from the crowd, looking proudly in the direction of his Premier League champions with his hands in his pockets, the familiar dark overcoat worn against the Mancunian rain and black fleece zipped up, Sir Alex Ferguson was true to himself to the end.
This was not simply the end of an Old Trafford era. This was the end of an era in British sport.
And on a day fuelled by emotion and lubricated by the sort of downpour Ferguson will have endured countless times during 26 years in Manchester, this was an occasion and performance that carried all the hallmarks of the 71-year-old Scot's peerless career.
Old habits died hard as he took charge of Manchester United for the 723rd time at Old Trafford. Ferguson celebrated a late winner to secure a 2-1 win against Swansea City, taught one of his high-profile players a very public lesson to demonstrate that - even now - his authority must not be challenged, then left behind some clear instructions on how supporters must treat his successor David Moyes.
Old Trafford has had plenty of practice of staging a celebration and this was pitched perfectly. This was a day for the monument built by Ferguson to pay homage to its creator.
It carried the air of an historic moment from early morning at Old Trafford. Three hours before kick-off and thousands were already assembled around "The Theatre Of Dreams".
The small barricaded area set aside for the arrival of United's team coach was swarming at 12.30pm. The early arrivals claimed their places at the front to take those memento pictures of Ferguson leaving the team coach for the final time at the place he has made his own.
There was the rare sight of queues snaking around programme stands for the last souvenirs; one magazine bore the simple headline: "Born Winner."
The music played to serenade Ferguson before kick-off, from Nat King Cole's "Unforgettable" through Sinatra's "My Way" and into "The Impossible Dream" by Andy Williams, provided a soundtrack to his managerial achievements.
If it was an occasion swathed in sentiment, Ferguson nevertheless showed his ruthless touch by excluding Wayne Rooney from the party, offering him a cursory handshake and pat at the Premier League trophy presentation then confirming that the background to this was a transfer demand from England's striker that had been instantly dismissed.
Ferguson entered almost self-consciously through a guard of honour formed by both teams and into a thunderous wall of noise, chewing gum furiously with gentle applause for supporters who waved 73,000 flags supplied by the club, providing a background that resembled a giant swaying red blanket.
A banner was emblazoned with the words "Sir Alex - Immortal". Another carried the message: "Thanks Gaffer. From The Stretford End."
The bright lights of Old Trafford's electronic scoreboard shone through the murk reading "26.38." Years at United. Trophies at United.
For the completists, United won 2-1, Javier Hernandez giving them the lead and Michu equalising for Swansea - prompting chants of "You're Getting Sacked In The Morning" - before Rio Ferdinand's 87th-minute goal gave the script an almost inevitable conclusion.
This day was not about the result - although victory was desirable. The main business of United's season was done and dusted weeks ago. This was about doing justice to the deeds of Ferguson.
And justice was done. At the final whistle, in a ritual he has fulfilled many times before, he took the microphone in the centre circle to address the crowd. In years past this has often been a call to arms for present and future - this time it was the farewell speech.
Ferguson, despite expressing concerns he might "start blubbing", held his emotions in check to reflect on his career, thanking the club for keeping faith in dark early days before adding: "I'll be able to now enjoy watching the team rather than suffer with them."
And this staunch family man once again reminded those present of that key part of his personal make up: "I want to say thank you again from all the Ferguson family. They're all up there, 11 grandchildren - thank you."
Later, away from the United faithful but in front of the gathered media, he would reveal just how much family had influenced his decision to bring a glorious career to an end. "I decided to retire last Christmas," he said. "Things changed when my wife Cathy's sister died. She has lost her best friend, her sister."
Yet this would not have been Ferguson without the hard word and it came at the end of his very public address. Turning to his players he said: "Don't ever let yourself down."
Manchester United's supporters did not escape either as they were told: "Your job now is to stand by our new manager."
Then it was time for the presentations and an illustration that, for now at least, he still rules Old Trafford.
Rooney heard some jeers as he went to collect his medal, his wish to leave now, as Ferguson later remarked, a job for Moyes to deal with.
Ferguson lingered over his departure, savouring the lap of honour with one last glance up towards the Stretford End before disappearing out of sight.
The next time the man who made the impossible dream possible takes his seat at Old Trafford it will be in the directors' box, watching his chosen successor Moyes writing the next pieces of the storyline.
It was a party 26 years in the making and hastily planned. Invitations were accepted by 75,572 and it was a day that will live forever.
There will never be another era at Old Trafford that comes close to the one that ended in Sunday evening's driving rain.