Europa League final to provide shop window for Benfica's best
By Andy Brassell
European football expert
Last updated on .From the section Football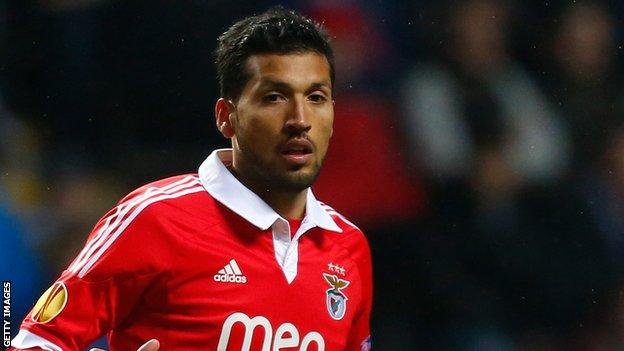 The pinnacles for Portugal's top clubs are often bittersweet moments - the joy of victory quickly gives way to a clutch of departures.
Whether Benfica win or lose the Europa League final to Chelsea on Wednesday, their fans are likely to endure this familiar experience in the coming weeks and months.
Annual heartache at losing one's best players is simply a fact of life in Portugal, even for the nation's two biggest clubs, Benfica and Porto. Supporters recognise and accept this, as the results of a survey published in sports daily O Jogo last Tuesday showed.
The question was: which Benfica players would you consider non-transferable at the end of the season? Top scorer Lima and former Chelsea midfielder Nemanja Matic topped the charts, with other key players such as Ezequiel Garay further back - indicating a resignation that they will leave.
Benfica's bitter rivals set the tone. Immediately after their 2004 Champions League win under Jose Mourinho, Porto sold Ricardo Carvalho, Paulo Ferreira and Deco for high fees.
By the start of this year, Porto had banked 450m euros (£380m) in player sales since the 2004 final.
Lisbon giants Benfica would never admit taking tips from Porto, but they have certainly become much better at working the market.
Since Jorge Jesus became coach in 2009, Benfica have profited well on players, including the Chelsea pair David Luiz and Ramires, and Real Madrid's Fabio Coentrao and Angel di Maria.
While Benfica's approach has similarities with Porto's love affair with the Latin American market, the Eagles have also developed excellent links with some of Europe's biggest clubs.
Healthy relationships with Real Madrid and Chelsea, for example, have yielded the signings of now-Manchester City midfielder Javi Garcia, Matic and Spain Under-21 striker Rodrigo.
Notorious for their shambolic financial management, Benfica's recent prudence has started to turn things around.
The club's current debt is in excess of 450m euros (£380m), but their playing assets and Benfica TV's recent capture of Portugal's English Premier League television rights mean the future looks good.
Going into the shop window of Wednesday's final, they hold a strong hand. This month's cover feature on Portuguese magazine Futebolista investigated the 20 most valuable players in the domestic league. Benfica and Porto each had nine in their list, with two from Sporting Lisbon (one of whom was new Norwich signing Ricky van Wolfswinkel) making up the 20.
Futebolista's list was especially interesting as it ranked the players on what it assessed as their current market value. Normally, transfer stories involving Portuguese players refer to their release clauses - a legal requirement of playing contracts, usually set high to safeguard the club but rarely indicative of a player's actual value.
Central defender Garay was the highest-placed. The 26-year-old has been heavily linked with Manchester United for months, and is widely expected to be on his way out.
The one disappointment for Benfica is that Garay's old club Real Madrid will be owed 50% of any transfer fee. Whoever signs Garay probably will have to pay his buyout clause, set at a relatively modest 20m euros (£16.9m).
Benfica have more room for manoeuvre with Matic, one of the revelations of their season, and Nicolas Gaitan, who has also long been linked with United. The latter has a 45m euro (£38m) buyout clause in his contract and has returned to his best form in recent months.
The new contract inked by Matic in January was perhaps Benfica's best bit of business this season. In exchange for a healthy pay rise and extending his deal to 2018, Matic's release clause was raised to the same level as Gaitan's.
There is a sense, however, that the prolific Oscar Cardozo has missed the boat. Having arrived at Benfica in 2007, the Paraguayan will turn 30 five days after the final.
He has long been linked with a move away, but has had a 50m euro (£42m) buyout clause in his deal for almost four years.
In many ways, he ticks all the right boxes for a big move. Cardozo has scored over 150 goals for Benfica and has regularly got the better of English clubs. Chelsea are the only English team he has played but not scored against - his victims include Newcastle, Manchester United, Liverpool and Everton.
An impeccably clean hitter of the ball, his languid style is nevertheless not to everyone's taste.
Portugal midfielder Carlos Martins, who Jesus accused of "a lack of emotional intelligence" after his red card in last week's costly draw against Estoril, is also expected to be on his way. Yet Martins is a rarity in being a potential bargain.
Benfica are hard-noised negotiators these days. Their players' individual performances in Amsterdam may give us a pointer as to just who will be their next big cash cow.