John Pemberton joins Bristol City as assistant head coach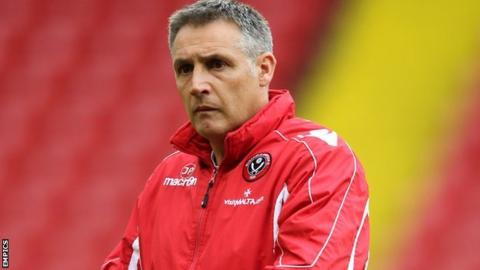 John Pemberton has been appointed Sean O'Driscoll's assistant at League One-bound Bristol City.
The 47-year-old replaces Richard O'Kelly, who quit his role last week for personal reasons.
Pemberton, a former Crystal Palace and Leeds defender, previously coached the youth teams at Sheffield United and Nottingham Forest, where he worked alongside O'Driscoll.
"John has an outstanding reputation as a coach," said the Bristol City boss.
"His track record in bringing young players through stands up against anyone. I'm delighted that he has bought into what we want to try to do here and agreed to come and be a part of it.
"I'm obviously very sorry to see Richard go, but I understand his reasons completely, and I'm very grateful to be able to replace him with someone of John's ability."
Pemberton joins O'Driscoll's backroom staff along with former Forest colleague Keith Burt, who was promoted from chief scout to director of football last week.