Arsenal: Arsene Wenger wants Champions League qualification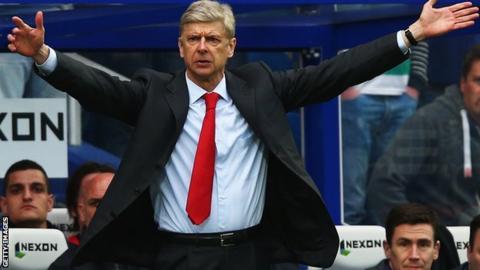 Arsenal manager Arsene Wenger has urged his players to secure Champions League qualification after saying they "had no chance" just two months ago.
The Gunners host struggling Wigan on Tuesday sitting two points behind fourth-placed Spurs, who have played a game more, in the Premier League.
"We are in a position where our destiny depends on us and we want to now finish the job," said Wenger.
"Two months ago we had no chance to be where we are so we can only be happy."
Arsenal remain in control of their own fate as they have two games remaining - against Wigan and at Newcastle - while Tottenham have just one more match, at home to Sunderland, and are relying on their north London rivals slipping up.
Wenger's men have lost just once in their last 14 Premier League matches, a run that includes 10 wins, to recover from being seven points off the top four after a 2-1 defeat to Chelsea on 20 January.
"We have rebuilt the team and since January we have done very well if you look at the number of points we have taken compared to the other teams," said Wenger. "We have created a good basis and that stability can help us to start strong next season.
"Last season we got 70 points and finished third, this year we can make 73 points and finish fourth.
"Is it enough? No, we want more. This year United were above everyone else."
Wigan, who won the FA Cup on Saturday, go into Tuesday's match realistically needing to win their last two games - against Arsenal and Aston Villa - to stand a chance of staying in the Premier League given their goal difference is 11 worse than Sunderland, who are four points ahead of them.
"It is a very important game for both sides so we expect huge commitment from both sides," said Wenger.
"Both teams have to go for it so it is very difficult to know what will happen but usually it should be an open game. I still think that Wigan will be faithful to their shape that is based on a solid defence and quick counter-attacking. Overall, I believe that will be the case.
"It is a surprise they are where they are in the Premier League. Because they have produced a remarkable game on Saturday and they played remarkably well on both flanks, they defended well and they kept Manchester City quiet for most of the game."