Brackley Town: Jon Brady vows to stay at club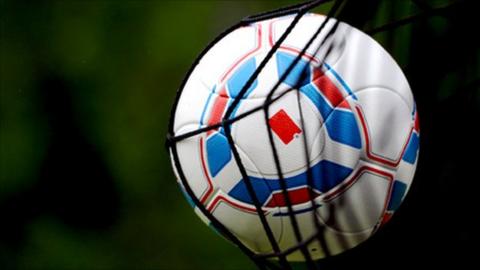 Brackley Town boss Jon Brady has vowed to stay with the beaten Conference North play-off finalists and hopes to keep the majority of his squad as they look ahead to next season.
Brackley were beaten 1-0 by FC Halifax on Sunday but Brady hopes his side will challenge again after finishing third in their debut season in the division.
When asked if he would stay, Brady told BBC Radio Oxford: "I should think so.
"I have already started planning and putting things in place for next year."
Lee Gregory's solitary goal was enough for FC Halifax to earn victory but despite not doing themselves justice on the day, Brady was still pleased with his squad, and has vowed to keep faith with them next season.
"We've got a good squad, I'd like to keep the majority of them," he said,
"I will offer them all something and go again with the same bunch, but you never know. I would like to add a couple more, we'll see if my boss allows me."
Brady added: "The players gave me everything, sometimes football does kick you in the teeth but we have exceeded our and everybody's expectation.
"They have been fantastic, we just didn't do ourselves justice
"It could have been us. I don't want to take anything away from the fact that these players and my staff have given me everything. To have that fan base, I have to mention that, to turn up today, 1,500 Brackley supporters, and if they can come and support us next season, I'm sure we can go one step further.
"Fifty points was our target and safety was the idea. We made safety pretty early and then we tried to push on from there. It's been a really good season, we've learned a lot of lessons but we'll come back stronger.
"I think the only thing that will eat away at the players and me throughout the summer is I know we're better than that today. It's a one-off day and Halifax edged the day but there's good players, good character, good management and we'll comeback stronger."