Roberto Martinez: Wigan must focus on Premier League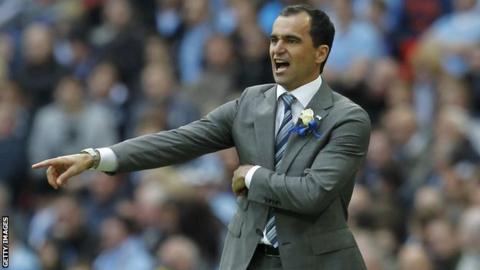 Roberto Martinez says winning the FA Cup against Manchester City will not affect Wigan's battle for survival.
Wigan need to win their last two games against Arsenal and Aston Villa to stay in the Premier League.
"It was a moment that changed the perception of our club for millions of people outside the UK. That is positive but it doesn't need to affect the next two matches," said manager Martinez.
"The memories will live forever but we need to focus on the next two games."
The Spaniard, who has been linked with the vacant job at Everton, is thankful that Wigan's fate is in their own hands.
"I think we are fortunate in terms of results because if you are relying on other people to do your job that doesn't work in football," he added.
"If we win the six points we don't have to rely on anyone.
"It is important that mentally the mindset is right and it is right because of what is happening within the town and what happened at the weekend."
Ben Watson's 91st-minute winner brought Wigan's first major success, but Martinez does not think Saturday's Wembley victory will be a distraction when they play the first of those two crucial matches at Arsenal on Tuesday.
"It will be impossible for us to forget the emotions we had on Saturday," Martinez said.
"Winning this trophy is very special and that takes the football club into a different richness in terms of what we are and our tradition.
"The history of the football club gets adjusted by days like Saturday, but I don't think that is something we have to worry about."
Wigan have delayed finalising an FA Cup celebratory event until their Premier League fate has been decided.
"The club can confirm plans for a civic ceremony to celebrate the historic FA Cup final victory have to be put on hold until the situation in the league becomes clear," said a club statement.