Southampton: Nicola Cortese considers position as chairman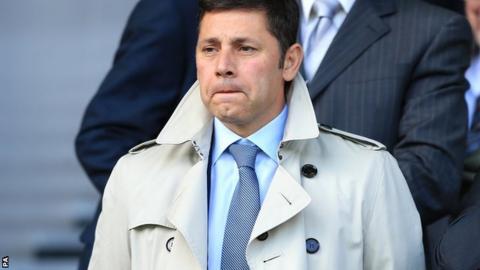 Nicola Cortese is considering his position as Southampton chairman amid talks to resolve differences with the trust that owns the club.
The 44-year-old has overseen Southampton's rise from the foot of League One to the Premier League.
But, with the club having all but secured their position in the top flight, the focus has now shifted to Cortese's future at St Mary's.
It is understood Cortese will make a decision in the near future.
He is thought to be seeking guarantees over his future and clarification about the way the owner's Liebherr Trust want to proceed.
Cortese is currently allowed final approval on all major decisions.
The Italy-born Swiss bought the club in 2009 on behalf of Markus Liebherr, a wealthy Swiss investor, to lift the south-coast club out of administration.
When German-born Liebherr died suddenly in 2010, the club said "well-laid plans that Liebherr and Cortese mapped out over a year ago will continue to be implemented uninterrupted".
Southampton effectively secured their top-flight future with a 1-1 draw at Sunderland on Sunday. They only need to avoid an improbable margin of defeat at home to Stoke on the final day to stay up, although they will be safe if Wigan lose to Arsenal on Tuesday.