Ebbsfleet United: MyFootballClub approve Kuwaiti takeover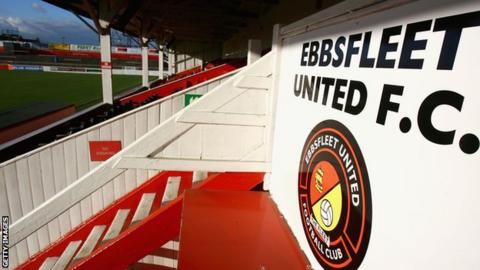 The majority shareholders of Ebbsfleet have voted to sell the club to KEH Sports Limited, a Kuwait-based company.
The MyFootballClub website, which owns 75% of the relegated Conference Premier club, held a vote on Monday and approved the takeover plans.
Fleet are currently in arrears with payments to HM Revenue and Customs.
The club is also the subject of a winding-up order from the administrator of Fleet Leisure Limited, which is scheduled to be heard next month.
Ebbsfleet United entered into negotiations with KEH Sports Limited (KSL) on Friday.
Peter Varney, the former chief executive of Charlton Athletic, is behind the bid from KSL, which is a newly-formed subsidiary of Kuwaiti European Holding Company.
KSL published details of their offer on the Ebbsfleet website which included a payment of £10,000 for the entire issued share capital of the club, and offering a return of 10p in the pound for the club's outstanding loans and debts, including a payment of £13,900 to MyFootballClub.
The group proposed a transfer budget for next season of £100,000 and a wage budget of £8,000 per week as well as committing to the construction of a new stand at Stonebridge Road.
Over 96% of the members of MyFootballClub who took part in the vote on Monday approved the plans.
BBC Radio Kent understands that KSL will now try to persuade the club's remaining shareholders to sell their shares, as the Kuwaiti group would not be prepared to buy the side without owning the entirety of the club.
MyFootballClub have owned 75% of the Fleet since February 2008 but the club has run into financial difficulties recently after the number of members of the community website fell.
Last month the Fleet were the subject of a takeover bid from Carlos Kabir Karani, who is involved in football in Spain and the Canary Islands.
That interest led to MyFootballClub voting to relinquish their shares in the club to the Fleet Trust, the club's supporters group, in order to reach a deal but a negotiations with Karani stalled.
The Fleet Trust welcomed the outcome of the MyFootballClub vote to approve the KSL takeover.
"This is a momentous day for the Fleet," said the Fleet Trust's vice-chair Emily Connolly.
"This season has been one of the toughest in recent times, but we now hope that a new era of consensus, stability and significant financial investment is just around the corner.
"Once the deal has been concluded, the Trust Board look forward to working with Peter Varney and KSL for the benefit of the club, all Fleet fans and the Gravesend and Northfleet community."