Tim Vickery column: Corinthians learn value of patience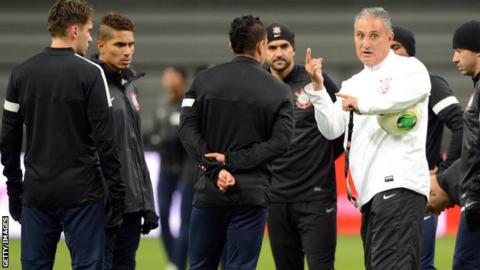 A few years ago I was in the audience when former Manchester United assistant manager Carlos Queiroz gave a lecture to a conference of Brazilian coaches.
He was speaking about his career, which has taken him to four continents. But in the question and answer session at the end, it was clear there was one topic of special interest to those assembled: what was Sir Alex Ferguson really like?
Throughout Queiroz's reply, the great and good of the Brazilian game, coaches with world titles to their credit, hung on every word. Ferguson fascinated them.
In South America, in Giovanni Trapattoni's famous phrase, a coach can be a bit like a fish - if he stays around too long he starts to smell. So how could it be that one man could stay fresh, relevant and in command for so long? In their eyes it was unthinkable.
Part of the explanation, in addition to individual qualities, comes from the collective context. The finances of English football may have gone through the roof in the last 25 years, but it has long been a business.
When, some hundred years ago, results started to become important and emotions started to rise, English club directors decided they needed a buffer figure, someone to take responsibility for disappointing performances. The secretary/manager role was born.
Over time, the men in this position were able to stamp their identity on the club. Ferguson is in a tradition that can be traced back to Herbert Chapman in the 1920s.
In South America, part of the precarious nature of a coach's existence comes from the fact that the clubs have not been run as businesses. Most of them are social membership organisations, where the president is an elected position.
One of the ways to win an election is to play to the gallery by sacking the coach. And, especially in recent times, the South American coach has been a fall guy with a lot to push him over: pressure from the fans, players with unpaid wages and star names being sold.
Hungry for blood and needing a story to sell their wares, the media join the push for a change at the top.
But there are signs of a change in mentality. The key date was early 2011, when Corinthians of Brazil were humiliatingly eliminated in the qualifying round of the Copa Libertadores, knocked out by Tolima of Colombia.
It was a defeat that forced Ronaldo into retirement, and 99 times out of a hundred it would have cost the coach his job as well. But Corinthians decided to keep faith with Adenor Bacchi, known simply as Tite, and they have not looked back.
Later that year, he took them to the Brazilian title, followed in 2012 by the fulfilment of all the club's dreams - their first Copa Libertadores title and then the World Club crown, when thousands of fans made the trip to Japan to roar the team on to a 1-0 win over Chelsea.
Granted, this has been a good time to be in charge of Corinthians. The club's mass support means that it is well positioned to take advantage of Brazil's consumer-based boom. Revenue from television and from marketing initiatives has been pouring in.
So often in South America, the short-term fortunes of the team are expected to sustain the club - a recipe for disaster. In the case of Corinthians, the solidity of the club has given support to the team.
Even allowing for these favourable headwinds, Tite has excelled in the three main functions of his position: selecting the team, choosing and preparing the strategy, and setting the emotional tone at the club. He is bright, articulate, curious and charismatic but knows that the game is more important than the individual.
When he made his name over a decade ago his teams were limited to the three centre-back system. He has since made a detailed study of European football, and the secret of his success with Corinthians has been to build a team of European-style compactness.
They are defensively solid but seldom defensive because the central midfield duo, and especially the Frank Lampardesque Paulinho, are constantly making an attacking contribution.
There are rumours of interest in Tite from Italy. But there is also an enticing reason to stay put. After the World Cup, Corinthians are set to move into a new stadium in Sao Paulo - another dream that the club are finally realising.
Paulinho, much courted by European clubs, has given this as a motivation to stay in Brazil, and it could be a factor keeping Tite and his players together for longer than would otherwise be the case.
In football, though, any talk of the long term is always dangerous. Things could look very different on Wednesday night, when Corinthians' Libertadores crown is on the line. In a replay of last year's final, they face Argentine giants Boca Juniors, with a place in the last eight at stake.
Since they met last year, Corinthians have added more attacking options while Boca have floundered. But Boca were 1-0 winners in the first leg in Buenos Aires, expertly blocking Corinthians down the flanks.
Should Corinthians overturn the deficit, Tite and his men will march forward. But elimination could lead to the break up of the side. Whatever happens, Tite has done well to last for over two and a half years in charge of a top Brazilian club. It might not match Fergie time, but it is no mean feat.
Comments on the piece in the space provided. Questions on South American football to vickerycolumn@hotmail.com, and I'll pick out a couple for next week.
From last week's postbag;
Do you think Ronaldinho can be important for Brazil in 2014? He has been playing very well, but I do not know if it is enough for the World Cup.
Vasco Lucas
I don't think anyone really knows. I don't even think he knows.
He is such a fascinating case. How could he let his standards slip for so long? How can it be that his immense talent was not enough for him? I think he's much more complex than the smiling image he likes to project.
He is certainly playing some wonderful stuff with Atletico Mineiro, where he is surrounded with quick players to get the best out of his vision and range of passing. But with the national team the game passes him by.
At the top level I don't think you can play him wide - these days he's not quick enough to find space. And in the middle he's unlikely to mark anyone, which can leave the team exposed. I'd love to see him get a chance at redemption in the 2014 World Cup but I think it would be a big gamble.