Newcastle's Alan Pardew says 'losing' comments were a joke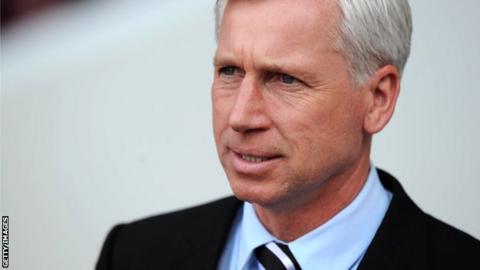 Alan Pardew says his comments about not caring if Newcastle lose 4-0 to Arsenal on Sunday were a joke.
The Newcastle manager made the remarks after the 2-1 win at QPR had secured their Premier League safety.
Arsenal are still vying for the final Champions League place with Tottenham.
"I know people will have picked up on my comments about not caring about the result against Arsenal, which were, of course, a joke," Pardew told the club website.
"It is definitely not the case that I would be happy for us to lose 4-0 against Arsenal on Sunday. I simply want our players and fans to be able to enjoy the game without looking over their shoulders.
"Even though we are now safe, we will be putting in the same effort that we would for any other Premier League game."
Newcastle lost 3-0 to Sunderland and 6-0 to Liverpool before a draw against West Ham and victory at QPR made them safe.
He said: "Our last two results at St James' Park - against Sunderland and Liverpool - have been nowhere near good enough, and Sunday gives us the chance to put that right.
"We want to end the season on a positive, to finish in as high a position as possible and to give the fans something to cheer about on the final day of what has been a frustrating season.
"Arsenal will be doing everything they can to achieve a Champions League spot and we won't make it easy for them, make no mistake about that.
"This is a game everyone at this football club wants to win."