Two Motherwell fans relish challenge over board presence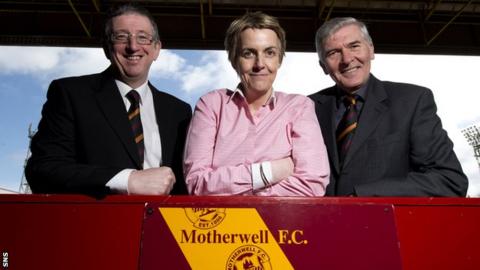 Two Motherwell supporters are relishing the challenge ahead after securing places on the club's board.
Brian McCafferty and Graham Barnstaple, from the Well Society, have raised £400,000 of an intended £1.5m for the club.
The money will be banked to safeguard the long-term future of the Fir Park outfit.
McCafferty told BBC Scotland: "It's a privilege to be voted onto the club board."
He added: "I'm a fanatic Motherwell supporter; I live in north Yorkshire and come up several times a week now.
"Coming to Motherwell, it's not just like a community, it's like a family. I come up and see my family and friends at a football match.
"If you are a supporter of a club and they ask you if you'd like to join the board, you would say yes."
Barnstaple said taking a place on the board would involve changes.
"As Brian said, it's a privilege for me to be part of the board," he said. "I used to be quite active on Twitter, talking about Scottish football in general, I've got to peg back on that.
"People do ask me about the current situation at the club - with players out of contract - and I've got to hedge what I say.
"It's a transformation for me from fan to board member. So there's a different pressure and you understand why we can't sign some of the out-of-contract players and I guess one of our roles is to articulate that to the fans.
"People will look to us, as the society, to represent their views and take that back to them."
Motherwell chief executive Leeann Dempster welcomed the new additions to the board as the club moves towards ownership by its supporters.
"I think it shows that it's working, that it's not just hollow promises and it's not just a case of the club asking supporters to put money into the club and that they're not going to have their say," she said.
"The focus here is for Motherwell Football Club to fully transition to full fan ownership.
"These guys are hopefully going to be terrific advocates for the club. They will be great board members as well.
"Every Motherwell supporter should look forward to the day when they take full control of the club because, at that point, the club is secure."