Motherwell's Stuart McCall admits interest in keeper Craig Samson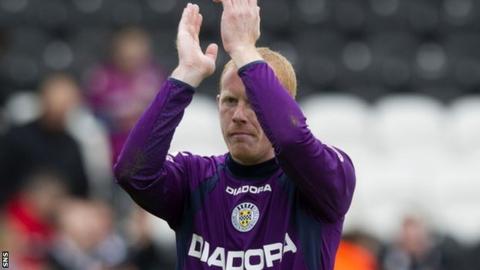 Motherwell manager Stuart McCall has admitted that he is interested in taking St Mirren goalkeeper Craig Samson to Fir Park this summer.
Buddies manager with the 29-year-old.
"Obviously the boy Samson is on our radar," said McCall.
"But I know as much about gardening as I do goalkeepers - and I know nothing about gardening - so I leave that up to our coach, Gordon Marshall."
Marshall knows Samson from their time at Kilmarnock and it looks like the player exiting St Mirren Park is destined to replace the departing Darren Randolph at Fir Park.
However, the said that "whoever comes in" will have stiff competition to face from his present number two as "we have a lot of faith in Lee Hollis".
McCall is facing another close season of rebuilding as he is despite his side finishing second in the Scottish Premier League.
Top scorer Michael Higdon, defender Tom Hateley and winger Chris Humphrey could also be departing, having exercised their option to wait until the end of the season to decide on their next contract.
James McFadden's five goals in 12 appearances since leaving Sunderland and starting his second spell at Motherwell means that .
McCall was philosophical about Motherwell being outbid by other clubs for the services Law, Randolph and possibly other players after a likely further drop in his playing budget despite qualification for the Europa League.
"I know it will be reduced and that will go by the board at the majority of clubs and that is the way of the world," he said.
"In fairness, it's the way even in the Championship and League One in England - you've got to cut your cloth a bit more accordingly.
"You can't have all these teams millions of pounds in debt, it is crazy.
"Players are going to have to accept they are going to get paid less money. I'm sure they won't be scrimping and scraping."
Motherwell chief executive Leeann Dempster said the club had realised for some time that they would not be able to match the demands of some players.
"That's just the reality of life here in Scotland," she said. "There are many other clubs that can afford to do more with players and, when that happens, it becomes very difficult for us to hang on to those players.
"We have to be thankful that we've had them for the time that we've had them because what you've seen on the pitch in the last two or three years has been nothing short of spectacular and it's all down to the management team and the players."
Dempster hoped to retain McFadden's services but thought the forward's return to full fitness would count against Motherwell.
"Clearly, we'd love to have him here next season - that's an absolute no brainer - but James has proved his fitness, he's proved everything we knew he had," she said.
"He's been superb the whole time he's been here, so I'm sure James will have many suitors for his signature."
Dempster did not wish to comment about Samson and reported interest in Ross County midfielder Paul Lawson.
"We're working to get deals done," she added. "We'd like to get our deals done early because the European qualification means we'll be back early."