Cardiff City manager Malky Mackay relishing latest test

By Alasdair Lamont
BBC Scotland
Last updated on .From the section Football
It's little surprise Malky Mackay's achievements first at Watford and now at Cardiff City have led to him being heavily linked with the managerial vacancy at Everton.
Mackay has distanced himself from that speculation, but the link is apposite, for he and the outgoing Everton manager Davie Moyes are cut from the same cloth.
Both earned reputations as steely defenders, but their managerial ability has eclipsed their achievements as players.
The pair command respect from players, fellow managers and reporters, not only because you feel only a fool would cross either man, but because they are gentlemen - courteous and welcoming.
They are also meticulous workers. Phil Neville spoke of Moyes's attention to detail last week and Mackay is of the same ilk.
"I was asked to come here two years ago and I put a plan to the directors at the time as to where I would see the club going forward," Mackay told BBC Sport.
"They agreed with that and they allowed me to structure the club in the way I wanted, to put my plans in place for different departments, for player recruitment and how we recruit players. That's been important.
"They've given me a lot of backing as far as that's concerned. There've been some real good staff who've followed me here and that's given us the platform to go and try to win the Championship.
"I think that (putting your ethos on club) is important for any manager. Number one that you're given time to do that and the ability to do it.
"There's been a huge turnover of players in the last two years. We only started with 10 players in the first place, so it was probably quite good there was a blank canvas to start with nearly. It allowed me to bring in good staff, key staff and build departments.
"So we've got a new sports science department, medical department, more importantly player recruitment department and the way I like that to work. That's helped me bring in the players I thought were going to give us the best chance in the Championship of being promoted.
"That was the main objective. I've been in the Championship a long time and I know there is a formula here in terms of how you challenge for promotion: the age, the experience, the blend of players you've got and the way you should be able to play at any given time in this relentless league."
So having assembled a squad that has achieved that goal, will the type of side required to stay in the English Premier League be vastly different?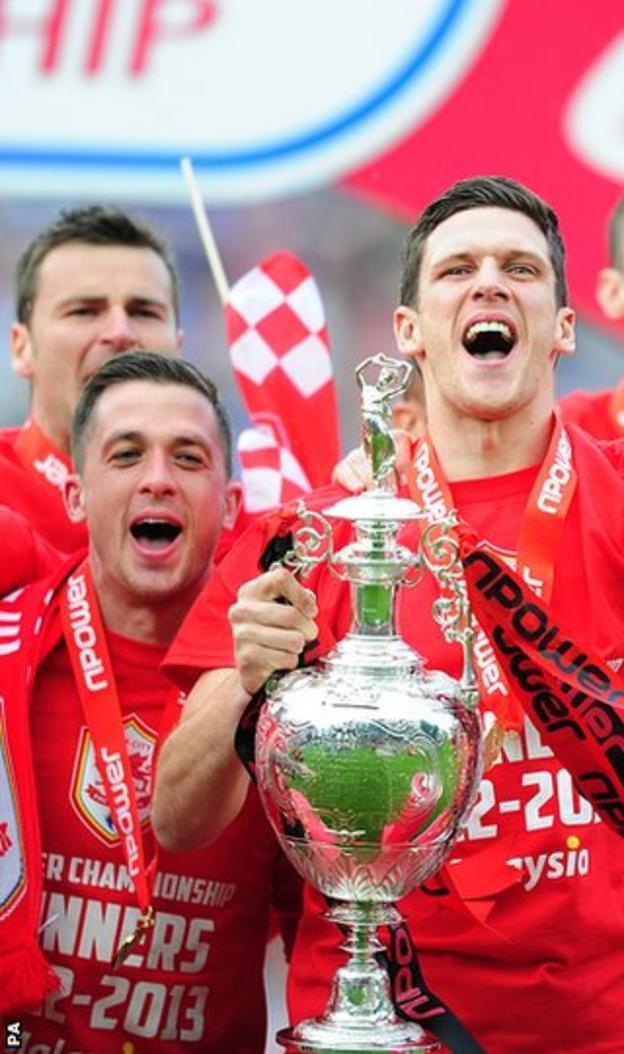 "I don't think it's vastly different. It's like first season to second season here. First season we got to the Carling Cup final, we had a very small squad playing an awful lot of games," he explained.
"In the summer we managed to bring in a higher quality of player again to add to that group and we let some go. It'll be exactly the same this summer. We need to bring in some quality players but there are a lot of players there who've won the Championship who will then be able to go and play in the Premier League.
"I want everyone comfortable on the ball - that's the very first thing you need. You need athleticism, fitness and the standards we have at training means they have to be of a certain standard of fitness. Then it's about tweaking.
"You've got to do that any year (let players go). I've had to do that every year in management, in terms of people you get friendly with, you get to know boys who work hard for you but are they able to play at the next level up in my opinion or staff - can they go to the next level? As long as you look at it as, for the good of the football club, what is the best way forward, then players realise that."
A transfer budget of £25m has been mooted for Mackay, but he realises that will have to be invested astutely.
"It's what I've had to do from day one at Watford," stressed Mackay. "We didn't have any money and had to be very astute. We managed to get some loans in that were high quality.
"Coming here, the first season we didn't have money for transfers so we had to try to get high-quality free transfers, which we managed to do. In the summer there, we were given a sum of money to go out and get a better quality in again.
"But as the levels rise, you've still got to be cute, to be prudent with the money. The owner is certainly someone who doesn't throw good money after bad and every penny I spend, I document and give him a reason as to why it's been spent.
"It's not about gut feeling, it's about business reasons as to why we should buy players. So that doesn't change. You try to get good players in and they've got to be value for money."
Mackay's enthusiasm for the Cardiff City project, in which he has been a pivotal figure, suggests it would have to be a mightily attractive offer to tempt him away before having the chance to test himself and the club at the top level.