Guernsey captain Sam Cochrane ruled out of 2013 Muratti Vase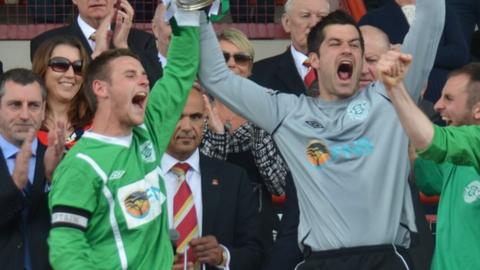 Guernsey captain Sam Cochrane has pulled out of the island's Muratti squad because of a hamstring injury.
The 27-year-old joins striker Nigel Hutton, who has a haematoma on his leg, in being forced out of Kevin Graham's squad for Saturday's game with Jersey through injury.
Goalkeeper Chris Tardif will take over the captaincy of the island side.
"It's a big blow, he's our leader and a massive influence on this group of players," Graham told BBC South West.
"He's the best skipper I've ever worked with in football and a monumental character."
Cochrane, who had been carrying the injury towards the end of the season, says there was no way he could commit to the side.
"We got together as a squad on Sunday and I joined in the training session no problems," he told BBC Guernsey.
"On Monday I had a tougher session with the physio Mike Thomas and after 25 minutes I started to feel my hamstring again and it got more and more uncomfortable.
"I'm not confident that if I start the fixture that I'd be able to complete the 90 or 120 minutes, maybe I'd get to 40 or 50 minutes and then I'd probably break down.
"I'm not fit, I'm not ready, and it's not right for me to be part of the squad," he added.
North's attacking midfielder Ryan Lamb, who has played for Guernsey's Under-21s and Under-18s, has been brought into the squad as cover for Hutton, but no new defenders have been selected.
Tardif, 31, has played professionally for Bournemouth, Oxford United and Portsmouth and Graham said he was the obvious choice to replace Cochrane.
"I've got absolutely no hesitation or reservations about the quality of the replacements, whether it's who I give the armband to or the defender who comes in in Sam's place," Graham said.
"I'm in a very lucky position where I lose my skipper and give the armband to Chris. He's the most experienced boy there and the player all the other boys look up to."
Guernsey Muratti squad: Chris Tardif, James Hamon, Simon Geall, Jacques Isabelle, Jamie Dodd, Tom Strawbridge, Alex Le Prevost, Ollie Mackenzie, Angus Mackay, Kieran Mahon, Matthew Loaring, Dominic Heaume, David Rihoy, Glyn Dyer, Craig Young, Ross Allen, Marc McGrath, Ryan Lamb.