James Beattie: New Accrington boss 'had no plan to be manager'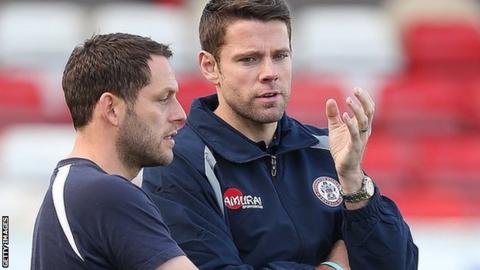 New Accrington boss James Beattie has admitted he had not considered a career in management before being asked about his interest in the vacancy at Stanley.
by the League Two club on Monday.
Beattie told BBC Radio Lancashire that predecessor Leam Richardson had recommended him for the role.
"It was actually Leam, when he decided to leave, who said to the chairman that he thought I would make a great manager and it just went from there," he said.
in the final weeks of the season before leaving to at the end of the campaign.
and scored seven goals in 27 matches for the Lancashire club.
When asked about the first time he thought he would like a crack at management, he said: "When the chairman [Peter Marsden] rang me. I was in the airport, having just flown down to Southampton."
The former England striker will remain registered as a player, although he said that he will only pick himself in an emergency, and plans to use his extensive contacts in the game to strengthen his squad.
He has lofty ambitions for a side that finished 18th this season, adding: "The aim is promotion.
"People might say 'he's dreaming' but you've got to aim high. That's the ultimate goal and everybody will know that's what we're going for next season."
For Beattie, who has his appointment as Accrington manager provides a symmetry to his early days playing competitive schoolboy football in the Lancashire town.
"I was born in Lancaster, but I spent all my time growing up in Blackburn," added the former Southampton and Everton forward.
"I scored a few goals here [at the Store First Stadium, formerly known as the Crown Ground] when I was a boy. It was the pinnacle of your season to get to the cup final, which were always held here.
"It's funny how your life turns out sometimes. It's amazing and I'm delighted to be here. I can't wait to get started."
Former England cricket coach David Lloyd, who is on the board of directors at Accrington, has welcomed the decision to give the job to Beattie.
"The club have acted very quickly and sensibly," he said.
"I'm sure he'll wake up every day ready for a new challenge. There can be a lot of downs in League Two and it's always a little bit scary, but it's an opportunity for a young manager. Accrington have given him this opportunity and we all wish him well."