South Shields future not secure - Gary Crutwell
Last updated on .From the section National League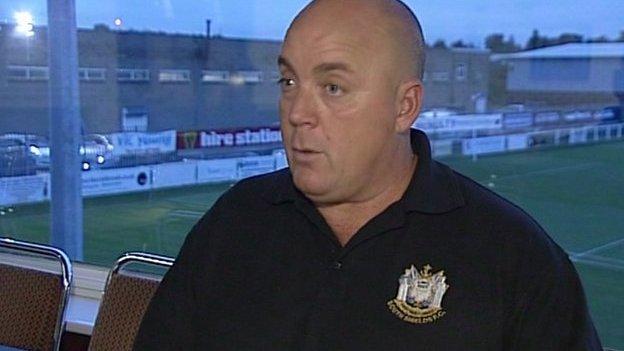 Chairman Gary Crutwell has said the future of South Shields is in doubt, with two weeks remaining in their search to find a home for next season.
The Mariners' Filtrona Park is up for sale and without the finance to purchase the venue, they are homeless.
"If the club hasn't got a ground by 31 May up to the standard, then I believe we would be relegated from the league," Crutwell told BBC Newcastle.
"Which in turn would possibly be the end of the football club."
Shields play in the Northern League, and will - ground permitting - play in the second division next season after relegation in the regular season table.
"We've got two possible options open to us," Crutwell continued.
"We're in negotiations with two clubs with regard to securing a ground share for the immediate season going.
"Until it's signed and sealed we'll keep the two clubs unnamed."
Initially Crutwell and the board had hoped to raise the funds via a share issue, and the notion of a bank loan was also raised but both have proved unsuccessful.
"The club has explored every avenue with regard to purchasing the ground. In the current climate, we've tried, we've pushed it hard and come up very short." he added.
"We've had several valuations on the ground and unfortunately they don't come up to the price that is on it.
"Therefore the banks are reluctant at this moment in time to lend the club the mortgage to buy the ground.
"I think it would be terrible for the town the size of South Shields, the history of the club, being a former Football League club, to not have anywhere to play in the town and in the football pyramid would be awful."